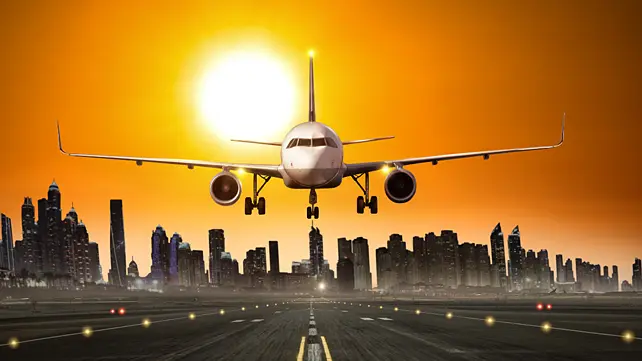 As of 2021, no "magic bullet" can eliminate or drastically reduce harmful emissions in commercial aviation. The development of alternate energy sources for uses across the commercial aviation value chain is in its nascent stages of research.
Creating highly efficient processes, optimising the utilisation of resources to the highest degree, and streamlining the flow of operations to cut down on unnecessary tasks will be the key factors to constrain emissions in the meantime. To achieve these benchmarks over the short-term, digitalisation across the process of each stakeholder in the commercial aviation value chain will be critical.
Data has grown significantly since the turn of the 21st century and is now ubiquitous. The corresponding technology to create, dissipate, collate and analyse these large swathes of data has also evolved in the same period. The rise of technology giants and the deployment of their solutions into nearly all industries have enabled enterprises to realise cost savings, develop new revenue streams, drive innovation and shift away from legacy information technology (IT) infrastructure.
The digital start-up ecosystem has also been booming in the past decade, with firms developing niche solutions catering to specific business problems, leveraging the latest advances in next-generation technologies such as Artificial Intelligence (AI), cloud computing, Blockchain, Mixed Reality, etc.
Pillars to achieve net-zero carbon emissions in commercial aviation.
The potential growth in business data traffic and the corresponding rise in digital investments by firms will lead to higher efficiencies. The COVID-19 pandemic devastated the financials of the commercial aviation industry. Still, firms with higher fiscal discipline and capabilities utilised the downtime to revamp their IT infrastructure and accelerate vital digital projects.
The primary focus area is touchless passenger processing at airports, which became a core digital transformation activity across global airports to alleviate health concerns and drive passenger traffic post-pandemic.
Airlines
The low-hanging fruit that airlines are targeting with their data analytics investments is in fuel burn. As per Frost & Sullivan's analysis on airline digitalisation, even a small drop in fuel utilisation will lead to significant cost savings for the carrier and cut down unnecessary emissions.
Mobile hand-held devices for pilots and applications showing real-time analysis, digitising aircraft maintenance activities, and optimising airspace utilisation are other areas where technology implementation can help reduce emissions. Industry estimates note that an average commercial aircraft can emit up to 1,000 kg of additional carbon due to inefficiencies in airspace management. Another area with severe inefficiencies is data communication between air and ground stakeholders.
Exhibit: Digital Tools for Sustainability – Airlines
Airline
Solution Vendor
Description
Benefits
Air Asia
General Electric – Airspace Insight
Increase utilisation of flight paths.Improve pilot performance in terms of carbon emissions.

127 MM kg annual fuel savings
34,657 minutes of delays saved

Air Asia
SITA – SafetyLine
Utilise machine learning, highly accurate weather forecasts to deliver customised recommendations to pilots that can reduce fuel utilisation.

Boeing B777: save 234 kg per climb 214 CO2 tonne emission reduction annually for one aircraft.

Air France
Open Airlines – Sky Breath
Artificial intelligence platform to analyse, suggests and collect data from the flights, performs in-depth analytics, and helps identify fuel saving opportunities and increase efficiency.

Help achieve France's goal of reducing 50% of its CO2 emissions per passenger/km compared to 2005 levels.
Reduce fuel consumption by up to 5%.

Alaska Airlines
Airspace Intelligence – Flyways AI™

Flight monitoring & routing solution to help in developing efficient routes

Data based predictions & recommendations for flight operations & routing

Over a six-month trial, the carrier saved 480,000 gallons of fuel, reducing 4,600 tonnes of carbon emissions.
Source: Frost & Sullivan, General Electric, SITA, Air France, Alaska Airlines
Airports
Several studies on airport emission have shown that just a handful of airports are responsible for the largest portion of CO2 emissions.
The critical emission is from the energy utilities powering the vast airport buildings and processes. Frost & Sullivan's analysis indicates that the shift to renewable resources will be vital in ensuring sustainability. For the short term, airports adopt digital platforms that can intelligently distribute power to highly critical workload areas and ensure unnecessary power is not provided to unused facilities, such as empty toilets.
Digitising paper-based processes such as safety management, training, and leasing operations and automating associated processes will significantly reduce paper usage and the complexities of many of these tasks. This will lead to cost savings and reduced emissions at critical places in the airport value chain.
Advanced resource management systems that collate real-time data, analyse, and recommend the best course of action to optimise resource allocation and management will also be critical in containing emissions. Airside operations, especially vehicles used, are being transitioned to run on alternate propulsion systems and developed to become fully autonomous.
Exhibit: Digital Tools for Sustainability – Airports
Airport
Solution Vendor
Description
Benefits
Indira Gandhi International Airport, Delhi
Israel Aerospace Industries - Taxibot

The vehicle can be controlled from the cockpit & the pilot can move the aircraft from the terminal gate to the take-off point (taxi-out phase) and return it to the gate after landing (taxi-in phase).

Currently, two bots are used by three carriers, estimated to reach 15 over four years.

Reduced ~532 tonnes of carbon emissions
Enabled carriers to save ~214,000litres of aviation turbine fuel during taxiing.
Reduced taxiing noise.
Reduced risk of foreign object debris (FOD) damage to the aircraft during ground movement.

Gatwick Airport
Assaia – Apron AI

Computer vision implemented at the apron.

Data from the cameras at the apron to identify every key process during aircraft turnaround.

Reduce aircraft turnaround delays
Enhance on-time performance for airlines

Remote Towers
NATS, Saab, Avinor
Manage & control air traffic for single or multiple airports from a remote location with the help of advanced cameras and data transmission techniques.

Reduced number of towers will enable remote towers to generate at least 10% reduced CO2 emissions per sqm.
Digital towers are estimated to generate ~70% fewer emissions than traditional towers.
Source: Frost & Sullivan, Indira Gandhi International Airport, Gatwick Airport, Egis- Aviation
Commercial Aircraft OEMs
The industry is collaboratively developing emissions standards and policies to actively encourage participants to reduce harmful emissions in their daily operations. Aircraft and engine OEMs invest and research alternate energy sources to power future commercial aircraft.
Advanced digital tools like designing, simulation, and automation software, along with advanced, scalable, and affordable computing power, have enabled manufacturers to make great strides in their overall processes. Advanced aerodynamic designs that reduce drag, lighter components, advanced materials research, additive manufacturing are key factors that will enable manufacturers to reduce emissions.
Frost & Sullivan's insights on the next-generation technologies in commercial aviation such as next-generation shopfloor technologies, Factory of the Future (or) Industry 4.0, has identified that implementation of such technologies would allow OEMs to optimise their shopfloors, reduce wastages, and reduce unnecessary emissions.
Exhibit: Digital Tools for Sustainability – Aircraft OEMs
Aircraft OEM
Solution Vendor
Description
Benefits
Boeing
General Electric
Additive Manufacturing: GE9X engines on the Boeing 777X have over 300 3D printed parts.

Enabled new GE9X engines to be 10% more fuel-efficient than the GE90 engines.

Airbus
In-house "Digital Design, Manufacturing & Services (DDMS)" programme

Industry 4.0 initiatives leveraging advanced analytics, AI, and quantum technologies.

Enable firm in the overall digitalisation of the overall manufacturing ecosystem.

Reduce development costs.
Reduce time to market for commercial aircraft.

Rolls Royce
Microsoft – IntelligentEngine platform on Azure
Provided the ability to store and analyse large amounts of data from various segments, such as design, manufacturing, quality, etc.

Enable firm to process several simulations concurrently, compared to single simulation processing capability.
Provide clients (airlines) insights into how their operational environment (flight plans, maintenance, weather conditions, etc.) impacts their fuel efficiencies.
Source: Frost & Sullivan, Boeing, Airbus, Rolls-Royce
Commercial Aircraft Maintenance, Repair & Overhaul (MRO)
The commercial aircraft MRO segment is still overwhelmed with the paper-dependent process and lags the other segments in digital maturity. Our analysis of commercial MRO digitalisation has identified key technology trends that the industry is focusing on.
Airlines' commitment to invest and digitise their maintenance processes will encourage MROs to improve their digitalisation efforts. Predictive maintenance is a crucial area of focus for stakeholders, not only for their aircraft but also for other assets such as equipment. Utilising drones and robots powered with advanced image processing to perform inspections is another budding area of investment. These solutions will accelerate inspection quality and time, potentially high cost and time savings for stakeholders, along with a reduction in unnecessary emissions.
The rate of digital progress is rapidly increasing, especially in the enterprise segment. These digital improvements represent more efficient processes that will directly or indirectly impact the sustainability efforts of any organisation. The commercial aviation industry is increasing the adoption of such technologies to enhance their operations and reduce the emission burden on society. These innovations also steadied the ship stakeholders, who are cautiously recovering from the COVID-19 pandemic. The gains from digitalisation efforts will be generated across different periods depending on the technology and use case.
Exhibit: Digital Tools for Sustainability – Aircraft MROs
MRO
Solution Provider
Description
Benefits
Lufthansa Technik
In-house digital documentation

Digital documentation for aircraft maintenance. Electronic representation of defects on Lufthansa Airlines & Lufthansa Cargo aircraft fleet.

Job sheets & round log books are other documents that have been digitised.

Enable firms to eliminate the use of potentially millions of pages in the future.
Accelerate authentic information distribution with fewer errors and save the environment, costs & time along the way.

MTU Aero Engines
In-house additive manufacturing

Enable firms to develop parts directly from design data.

Utilises the technique for large scale production of borescope bosses for PW1100G-JM engines & planning to manufacture lightweight brackets that support oil lines.

Insignificant material wastage.
Utilise fewer materials compared to traditional processes.
Reduces the weight of components.
Source: Frost & Sullivan, Lufthansa-Technik, MTU Aero Engines
Note: This is the second article in the four-part article series by Frost & Sullivan on sustainability in the aviation industry. The third part will look at how each stakeholder invests in their sustainability efforts over the medium term.
About the Author: Abhilash Abraham is Senior Research Analyst, Aerospace & Defense Practice at Frost & Sullivan.