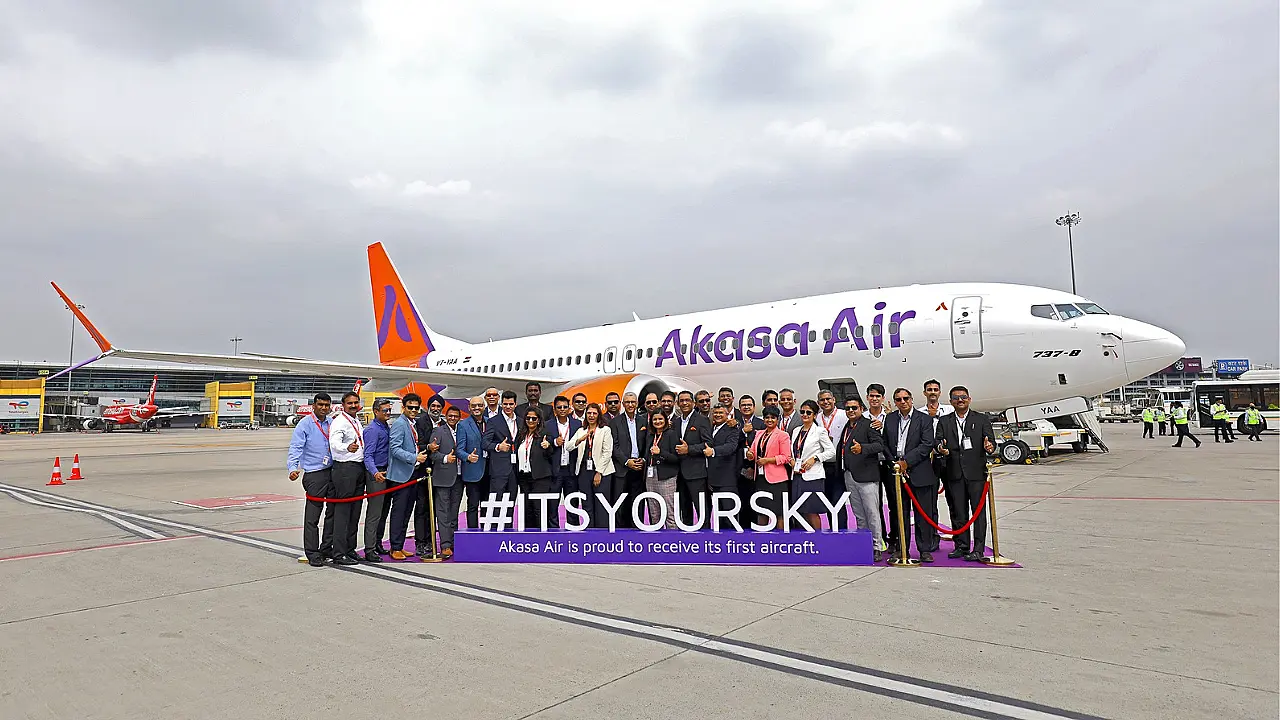 The newest entrant to India's domestic aviation sector, Akasa Air, has commenced operations making its debut flight on the Mumbai-Ahmedabad sector on August 7. It is looking to establish a strong pan-India presence and provide linkages from metro to Tier-2 and Tier-3 cities nationwide as part of its network strategy. The airline opened bookings for its flight on July 22. "We have seen tremendous response for booking from travellers and our first flight got sold out within a day of going live," said Praveen Iyer, Co-founder and Chief Commercial Officer, Akasa Air. The new airline received its Air Operator Certificate from DGCA in July and was the first Indian carrier to use the eGCA digital platform to complete its process from end to end.
Image Conscious
Akasa Air, a brand of SNV Aviation, has been aided by a highly successful marketing campaign, which has resulted in widespread publicity for the new airline. The airline's brand identity exudes a youthful aura; it's Rising A' logo symbolises the warmth of the rising sun, the effortless flight of a bird and the dependability of an aircraft wing. The airline says its chosen brand colours, 'Sunrise Orange' and 'Passionate Purple', signify warmth, youthfulness, and energy.
Its aeroplanes' exterior dual-tone paint scheme is certainly distinctive and sets it apart from its competition. The cabin interiors feature a bright theme, with purple single-tone seats and in-seat USB chargers. The airline has also chosen distinctive uniforms for its in-flight crew, which feature warm colours and a youthful and contemporary design. While the trousers and jacket fabrics are made using recycled polyester fabric derived from pet bottle plastic salvaged from marine waste, the lightweight gender-neutral sneakers feature soles carved from recycled rubber and do not use any plastic.
Akasa Air's effort to differentiate itself from the competition is clearly in evidence with the appetising menu on offer, which makes its competition look positively staid in comparison. The onboard food and beverage selection include items such as Mediterranean Bagelwich, Lebanese Ciabatta, Mushroom & Brie Croissant, Kathi rolls, Tartlets and Salads priced at INR 500 (including a beverage). In addition, the deserts, which are also quite appealing, are priced at INR 375. There is also a wide variety of ready-to-eat items and beverages.
In Growth Mode
The Low-Cost Carrier (LCC) has announced five destinations on its network – Mumbai, Ahmedabad, Bengaluru, Chennai, and Kochi. The airline will commence daily direct flights between Bengaluru and Mumbai starting August 19 and direct daily flights between Chennai and Mumbai from September 15. It will start flights between Ahmedabad and Bengaluru from August 23.
Fares at present appear attractive, starting with starting prices of INR 726 (Bengaluru – Kochi), INR 2,103 (Mumbai -Ahmedabad), INR 4,137 (Ahmedabad – Bengaluru), INR 4,094 (Chennai – Mumbai), etc. The highest fare for some of these sectors could go as high as INR 14,000. Other taxes like Aviation Security Fee, CUTE charges, User Development Fee, Passenger Service Fee and GST, depending on the airport, would range between INR 475 to INR 800.
MAX Efficiency
Akasa Air is the second Indian carrier to place orders for Boeing's 737 MAX. It announced orders for 737-8 and high-capacity 737-8-200s at the 2021 Dubai Airshow. The 737-8 can seat up to 178 passengers, while the 737-8-200 can accommodate up to 210 passengers. The 737 Max 8-200 received US Federal Aviation Administration (FAA) certification in March 2021 and features an additional pair of exit doors on the aircraft. Nearly 700 737 MAX aircraft (in all variants) are now in service with over 56 operators.
Akasa Air's orders for 72 single-aisle jetliners were valued at approximately $9 billion (at list prices), though airline customers are often able to secure discounts. It's first Boeing 737 MAX was delivered in India in June, and it is slated to receive two aircraft every month. Akasa Air's fleet will be 18 aircraft by the end of 2023, after which it plans to induct 12-14 aircraft every year, completing the initial order for 72 aircraft by 2027.
In June, the airline announced that it had entered into a sale and leaseback agreement for five Boeing 737-8 jetliners with Ireland-based Griffin Global Asset Management (Griffin). These would also be the first several 737-8s to be inducted into the airline. Akasa Air is likely to follow the sale and leaseback model for the bulk of its aircraft fleet. Griffin had also undertaken purchase and leaseback transactions for IndiGo, for which it delivered five Airbus A321neos over May-June.
Akasa Air's 737 MAX jetliners will be powered by CFM LEAP-1B engines under a November 2021 contract worth nearly US$4.5 billion (at list prices) which includes spare engines and long-term services agreements. The LEAP-1B engines feature real-time engine monitoring and predictive maintenance planning. Globally the LEAP fleet has logged over 20 million engine flight hours in commercial operations since entering into service in 2016. Its customers have saved more than 14 million tonne of CO2 emissions. CFM has delivered over 1,600 LEAP-1B engines.
Boeing's 737 MAX family reduce fuel use and carbon emissions by at least 14% compared to the airplanes they replace. The aircraft's promise of the lowest seat-mile costs for a single-aisle airplane, as well as high dispatch reliability and an enhanced passenger experience, will be key to Akasa Air's efforts to differentiate itself from its competitors. According to information provided by Boeing, the 737-8 delivers fuel efficiency and CO2 emissions improvements of 14% compared to the newest 737NGs.
This increases to 20% when compared to first-generation 737NGs. Boeing also claims the 737-8 uses 8% less fuel per seat than the A320neo. Compared to the older 737-800 NG, which could travel up to 5,440 km, the new 737-8 can travel up to 6,150 km. Boeing has stated that it will guarantee maintenance costs and days out of service for the 737 MAX, which, over 20 years, will have 39 more flying days, four fewer base checks and three additional years before the first HMV check as compared to the A320neo.
While the 737 MAX appears visually similar to the 737NG, the advanced winglet and larger CFM LEAP-1B engines are the main differences. According to Boeing, the new 737 MAX AT winglet is the most efficient ever designed for a production airplane and delivers the greatest contribution to the improved fuel efficiency of any winglet.
The new aircraft will feature comfortable and spacious interiors with modern sculpted sidewalls, larger windows, and bigger pivoting overhead storage bins. According to Boeing, the windows on 737 MAX aircraft are 20% larger than those on A320neos. The LED lighting in the cabin replaces incandescent signage, attendant and halogen reading lights fitted on previous generation aircraft. These LEDs last ten times longer than the previous standard of lights fitted on Boeing 737s and, with an estimated 40,000 hours between replacements, are also more maintenance friendly.
Worthy Contender
Operating a successful airline in India is a challenging undertaking at the best of times, and Akasa Air commences operations in a time of increased global tensions, fluctuating fuel prices and a depreciating rupee. Akasa Air entered the market 16 years after industry leader IndiGo started operations and appears to be starting on the right foot.
Akasa Air is continuing with the LCC model, which has proved successful for IndiGo but has opted for Boeing's 737 MAX single-aisle jetliner instead of Airbus's A320neo family. The airline will be counting on strong support from Boeing, which also requires a successful operator of 737 MAX aircraft in India.
It remains to be seen how Akasa Air will navigate India's brutal commercial aviation sector, where low fares have been one of the reasons for the large debts piled up by major carriers. According to data provided by the Ministry of Civil Aviation, the estimated airline losses of Indian carriers in FY21 stood at INR 19,564 crore. Initial signs for the new carrier, however, appear encouraging, and it will need to balance the challenge between growing its fleet and sustaining operations to return a profit as soon as possible.