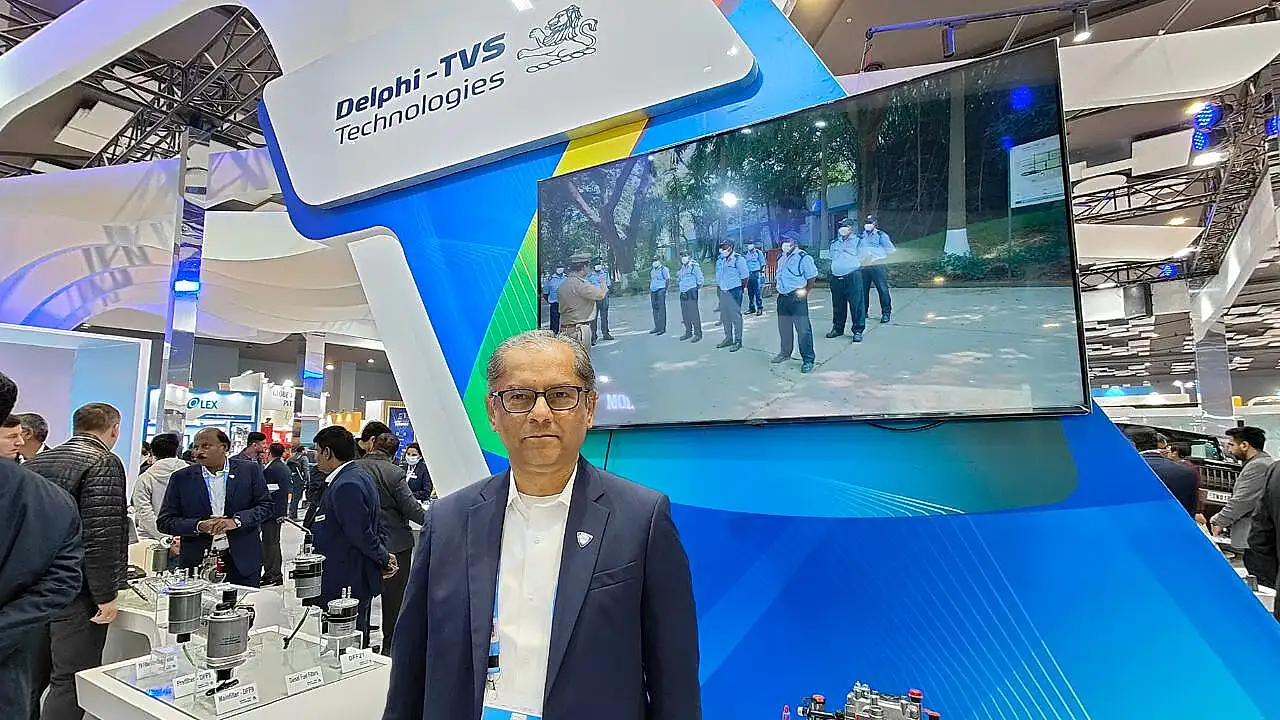 B Viswanath
Delphi-TVS, the joint venture of BorgWarner and TV Sundaram Iyengar & Sons (TVS), is gearing up to supply parts to hydrogen-based engines which come in two versions: hydrogen ICE and fuel cells.
B Viswanath, Head of Engineering, Delphi–TVS told Mobility Outlook, "We are prepared for both versions and have begun talking to customers." According to him, hydrogen ICE is "more like gasoline" since it has injectors, spark plugs and a hydrogen regulator.
"We are working with BorgWarner to see what aspects of the system we can work on," he added. While the leadership at Delphi-TVS agree that the future is electric, hydrogen is more relevant from the company's point of view.
It also plans to expand its business into other areas such as sensors and actuators. Talks are on with buyers to understand their needs and Viswanath said the company would also localise parts for those sourcing parts from overseas. "Though it is not part of our portfolio, we would like to become a full-suite supplier to our customers," he explained.
Delphi-TVS offers fuel injection systems and after-treatment solutions for cars, multi/sports-utility vehicles, light and medium-duty commercial vehicles, construction equipment, tractors, gensets and various small engines. It also makes common rail, in-line and rotary fuel injection equipment for diverse applications at its plant in Mannur near Chennai.
Off-road Vehicles
The company is ready with its product offerings for tractors comprising a common rail injection system to support the TREM 5 regulations scheduled to kick in from April 2024. The norms cover a wider range of engines right from under 8 kW to those larger than 560 kW.
PN (particle number) limits will be introduced for engines with rated power between 19 and 560 kW. Delphi-TVS is in talks with customers to support them for these regulations while exploring business opportunities for common rail systems in medium-duty commercial vehicles.
Big Change
Bharat Stage-6 helped the company get more business with high local content, including pumps and many variants of injectors that it did not make earlier. BS6 also helped it introduce several technologies and enhance volumes.
Delphi-TVS hopes to follow a similar route in phase-2 of BS6 which will usher in programmed fuel injectors to keep a check on the amount of fuel burnt. Viswanath said some products could be exported when the localisation exercise is over. "Customers worldwide are migrating to newer technologies and some products could come back to India," he said.
The company is also looking at supplying child parts and subsystems to Delphi's plants worldwide. A couple of years ago, it began supplying mechanical systems to global facilities that migrated to the common rail. Viswanath said a similar script would pan out with regulatory changes which will pave the way for export of pumps and injectors. Eventually, this will depend on how competitive Delphi-TVS ends up becoming.
Tech Centre
The company's tech centre, located at its mother plant, has been developing products made in India. It has hi-tech active test beds, test facilities and capabilities to take up complete development activities at its end.
For instance, all work required to comply with BS6 norms is done here. "It is a huge credit to the team, because the technology and strategy were new. With minimum reliance on BorgWarner, we managed most of the development work in India," he said.
Going forward, Delphi-TVS will carry out all development work at the tech centre for the customers in India which will include electronics, mechanical and calibration etc.
Greater R&D Focus
With the product basket widening with new components, including sensors and actuators, Viswanath is looking to increase headcount at the tech centre, especially in mechatronics, software support, electrical and electronics. Beyond local needs, the centre also takes up assignments from Delphi's global locations on specific tasks.
With the Centre targeting about 30% electric vehicles by 2030, it simply means that diesel or gaseous fuels will continue to be relevant. Hence, the initial focus is to make ICE better. "We want to provide more value to the customers in terms of better fuel economy and reduction in CO2. The key is to offer more value for money and enable better technologies," he said.
Also Read:
Delphi Joins Nexus Automotive, Mobilion Ventures To Invest In High-tech Start-ups
BorgWarner Opens India Propulsion Engg Center In Bangalore
BorgWarner Morse Systems India Thinks Flexibility With New Plant