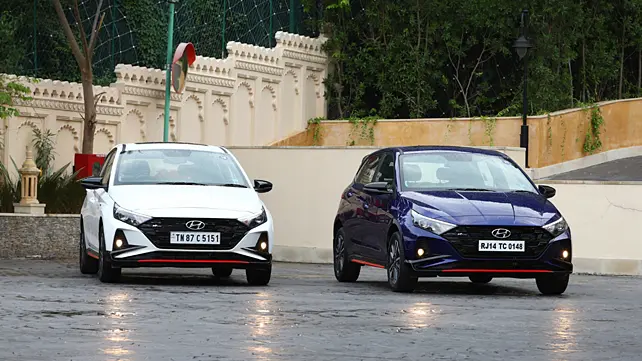 The compact premium segment in India has been growing significantly over the past decade, and as per the latest indications, an overwhelming 52% of the first time car buyers opt for premium hatchbacks. The segment has grown three-fold in the past 10 years, from a 10% market share in 2011 to 30% in 2021.
While the growth has been the steepest in the premium hatchback segment, one rung below, the compact high segment too has witnessed growth – 21% in 2011 to 26% now. The other segments, including the compact mid, compact low and sub-compacts have all seen numbers drop over the years.
Amid all these, one opportunity that manufacturers have been trying to address is the sporty and performance-driven hatchback segment. Many OEMs have introduced products in this segment with limited success. The opportunity, nonetheless, is big.
Hyundai's 'N' Marque
Recently, Hyundai Motor India (HMIL) marked the debut of its 'N' marque in the country, with the launch of the i20 N Line sporty hatchback. In Hyundai's product portfolio, the 'N' marque represents its high-performance division of cars, with 'N' referring to its Namyang R&D centre in South Korea, and the Nürburgring track in Germany, which Hyundai uses as its European test centre.
The company currently sells 11 products across its N Line range in 40 countries. So, how significant is this for Hyundai in India?
Hyundai's market research found a very strong affinity among young customers towards the N Line range, bolstered by their interest in the World Rally Championship (WRC). They wanted something very different in their cars, said Tarun Garg, Director (Sales, Marketing & Service), Hyundai Motor India.
"They don't want to really be a part of the crowd; they want to stand out, they want accessorisation, turbo, sunroof and many other things. We believe the N Line range will usher in a new era of sporting looking cars in India," Garg said.
The company believes it is rightly poised to give this segment the necessary boost – by creating this market.
The i20 N Line, in particular, is an interesting start point for Hyundai's N Line range in India. And there are many favourable reasons for HMIL to launch the i20 N Line first – the i20 customer is one of Hyundai's youngest, there are a lot of first-time buyers buying the i20, and preferring accessorisation. Moreover, there is a strong i20 legacy from the WRC.
Over time, the company would look at introducing other products from the N Line range, as it believes the N Line would add a lot to the overall brand in India.