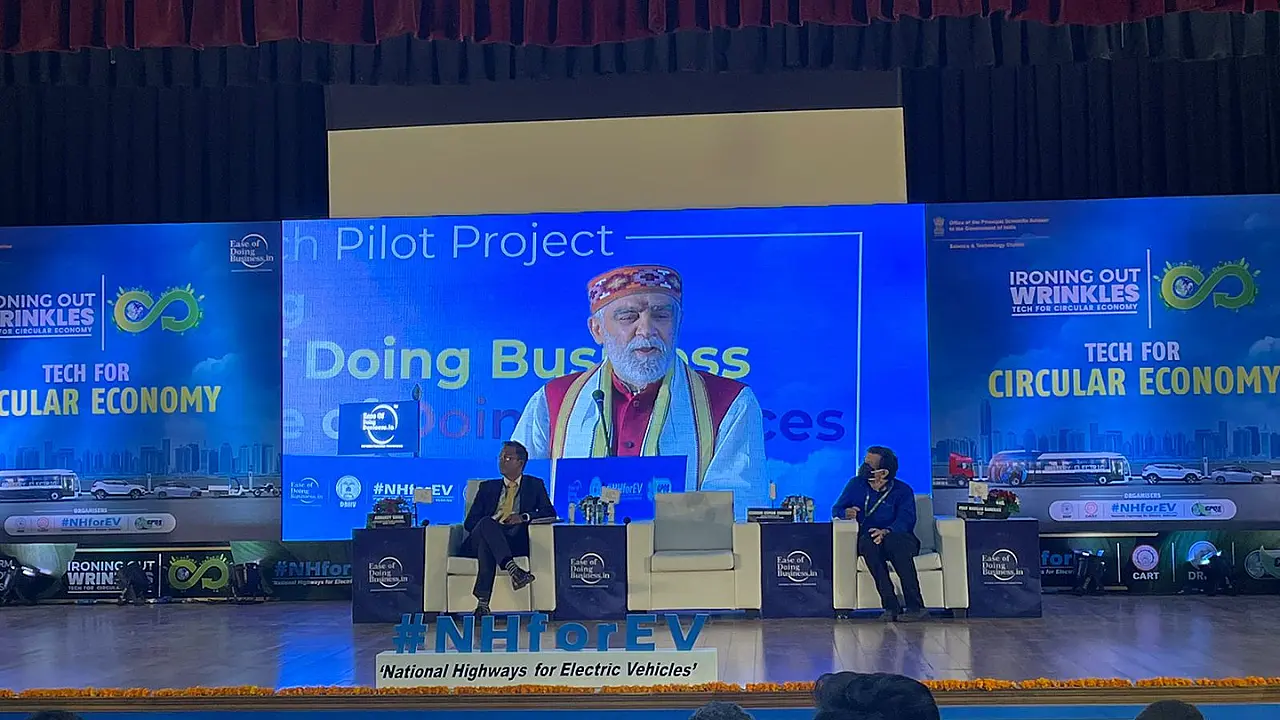 Ashwini Kumar Chaubey Addressing the NHEV Knowledge Group
"India emits eight times less carbon per person as compared to other nations," Ashwini Kumar Chaubey, Minister of State, Environment, Forest & Climate Change, Government of India, has said.
Addressing the NHEV (National Highway for Electric Vehicles) Knowledge Group, the Minister said that the Prime Minister of India had set a target of achieving net zero carbon neutrality by 2070.
"Vehicle pollution contributes to about 40% of total air pollution in Delhi," Ashish Kundra, Principal Secretary, Government of Delhi, noted while addressing the Knowledge Group on 'Solution to Pollution: Delhi Combat Priorities'. He continued that in the last financial year, Delhi witnessed 10% of the new vehicle sales coming from the EV segment.
Additionally, the total EV sales in Delhi in FY22 were more than what Mumbai and Kolkata together sold in the same period, Kundra said.
On the public transport side, the principal secretary confirmed that the Government plans to float an order for 6,000 e-buses by next month and aims to convert 75% of its buses to EVs by 2035.
Meanwhile, speaking on drones, Amber Dubey, Joint Secretary, Ministry of Civil Aviation, Government of India, said the Government in September 2021, made major changes for drones, including cutting down the rule book from 40 pages to 11 pages and changing the mandate of getting a drone pilot license to drone operator's license which can be acquired from the 23 authorised institutes.
These changes have enabled the market to grow from an INR 90 crore turnover in FY21 to INR 319 crore turnover in FY22, Dubey confirmed.
Furthermore, implementing drones for agricultural purposes can save 40% spent on urea while water usage will drop by 90%. 'Emerging techs on the platform of Drone Policy will rule the future of safety and security of E-Mobility," the joint secretary noted.
On the e-mobility for ground, Abhijeet Sinha, National Programme Director, Ease of Doing Business, Project Director at NHEV and President CPOs, said, "Under TECH TRIAL Run II, NHEV plans to dispense intercity electric mobility via electric cars and buses to fit in those user's pocket and tourists' transit modes who aren't even EV owners, but willing to opt for a cheaper and cleaner ride to travel to Jaipur and Agra from Delhi."
Speaking to Mobility Outlook, Sinha confirmed that starting September 9, 2022, the trial run will cover a total distance of 500 kms and a total of 100 e4Ws for each sector, along with 12 buses on each sector for intercity travel. Moreover, to create an engaging experience for the customers, the e4Ws will be integrated with MapmyIndia and URLs offerings, enabling the vehicles to be theft-proof.
Sinha stated that the organisation was able to add sightseeing and charging location options within the vehicle by using MapmyIndia. As a result, customers will receive interactive information from the vehicle while driving on the highways, and when they reach a charging point, the vehicle will remind them to take a break.
In terms of charging stations, the organisation intends to install 12 on the Delhi-Jaipur stretch and ten on the Delhi-Agra stretch. It also intends to open four stations in Gurugram and Noida each.
When discussing the project in more detail, Sinha explained that the charging stations, also known as relay stations, will operate intriguingly. Using its existing database, NHEV has identified positions where the user is most likely to take a break.
The company installed the stations based on this information. To reduce the user's waiting time, the organisation has chosen a relay model wherein the discharged vehicle is replaced with a fully charged vehicle so that customers can continue their journey without a long waiting period.
"This will not only solve the consumers' concern of high charging time but will also help customers who are in an emergency," Sinha said. He continued that the organisation aims to breakeven for these chargers within 36 months of operation.
The goal of the 500-kilometre pilot project is to integrate the data gathered into the main project, which spans about 5,000 kilometres across India and aims to replace tourist vehicles on highways with EVs, the project director added.
Besides this project, NHEV has introduced five more pilots, including 'Gati to Logistic: Shakti for MSME', 'Mobility goes Green: Powered by Solar', 'Swap & Go: ACC Battery Swapping', 'Delhi to Lead E-mobility' and 'E-Mobility Rural Connect-NHEV Cargo Hubs' under its umbrella of TECH TRIAL Run II.
PM Gati Shakti
Chaubey noted that the Government had allocated INR 20,000 crore towards developing multiple airports and ports across India.
Abhishek Choudhry, Lead technocrat, NICDC, noted that under the project, the country would have a 1.6X growth in road infrastructure development by FY25 while the number of airports will increase by three folds to 220 by the same time.
Additionally, the number of ports is also expected to grow to 75 by FY25, translating to a growth of 1.5X, and this growth will enable the country to move 1600 MT of cargo each year at the same time.