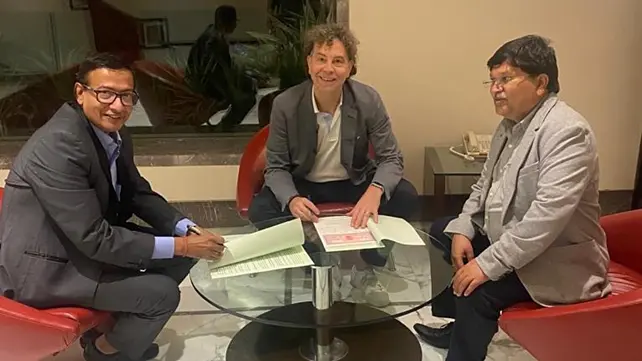 (L-R): Ramanathan Srinivasan, Managing Director, ATS; Thomas Quernheim, Global Director - Engineering & Type Approval, Automotive Mobility, TUV Rheinland and Rajendra K Bandal, Vice President - Mobility, TUV Rheinland India.
Automotive Test Systems (ATS), a valued partner to the Indian automotive sector for testing and validation, has inked a multi-dimensional Memorandum of Understanding (MoU) with Cologne, Germany-headquartered TUV Rheinland, a global product certification company.
As per the MoU, TUV will offer their facilities to ATS and offer calibration and other testing for ATS customers in addition to ATS offering TUV their test facilities in India for testing and certification of products, including consulting services as per requirement of their customers.
Further, both partners agreed to explore the potential to create joint test facilities in the country.
It has been agreed that TUV Rheinland will extend its international testing and certification support to ATS, as and when requested by ATS for certification purposes, through TUV Rheinland India.
As a "Preferred Partner", TUV will provide ATS certain services on priority in India, including identification of standards, directives and requirements for projects, country-specific regulatory requirements for projects, and critical path to certification.
As a "Preferred Compliance Lab partner", ATS – among other things – is ensured of receiving from TUV regular verification and/or assessment of ATS facilities for compliance of country-specific regulatory requirements. Additionally, TUV would get to use ATS facilities for pre-compliance needs of TUV Rheinland India customers with prior approval of TUV Rheinland India customers. TUV has also agreed to support ATS in providing product certification for ATS customers based on witness tests carried out in ATS labs.
On the other hand, ATS has agreed to consider TUV Rheinland India as a "Preferred Certification body" in the territory. This would allow the Germany company to access all the relevant technical information and the required test equipment related to the products extended to TUV Rheinland India for testing and certification.
Among other things, ATS will exploit the knowledge-base available with TUV Rheinland India in the various fields, as necessary. This will, however, be limited to the data that is intended for external use, the MoU noted.
Also Read:
Indian Government Issues Fresh Testing Parameters for EVs
ICAT Joins KATECH To Support Pneumatic Tyre Testing
Centre Amends EV Battery Testing Stds, Implementation In 2 Phases