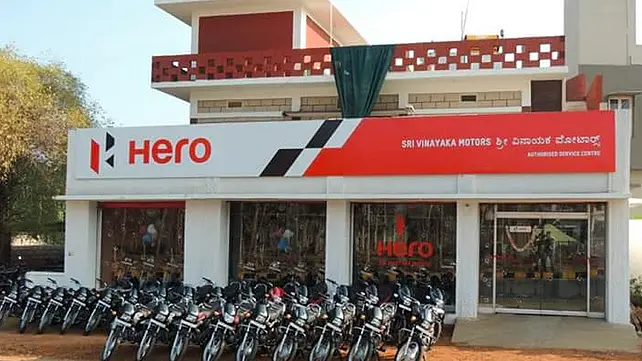 Hero MotoCorp sold 2,494,942 units between April and September which was way ahead of other rivals including HMSI
Honda Motorcycle & Scooter India (HMSI) may have registered more two-wheelers than Hero MotoCorp in September but the latter continues to lead the 75-125 cc commuter motorcycle segment for the first half of this fiscal.
Hero sold 2,494,942 units between April and September which was way ahead of other rivals including HMSI which clocked 843,328 units. In the process, Hero grew 17.82% YoY with commuter motorcycle sales totalling 2,117,438 units during April to September 2021. HMSI, for the record, grew 33.26% from the corresponding period's tally of 632,818 units.
The Splendor, HF Deluxe, and Passion brands accounted for sales of 2,140,783 units during the first half of this fiscal, registering a growth of 17.22% from 1,826,284 units sold in the same period last year. Hero's domination in this segment can be gauged from the fact that no other rival could even domestically sell half its numbers in this segment.
Bajaj Auto, with sales of 350,261 motorcycles, was the closest while HMSI only managed to sell 112,208 motorcycles in this category, approximately 33,000 more units than the previous year. The company, which has the 110cc Dream and Liva brands, is scheduled to launch its new 100 cc motorcycle next year.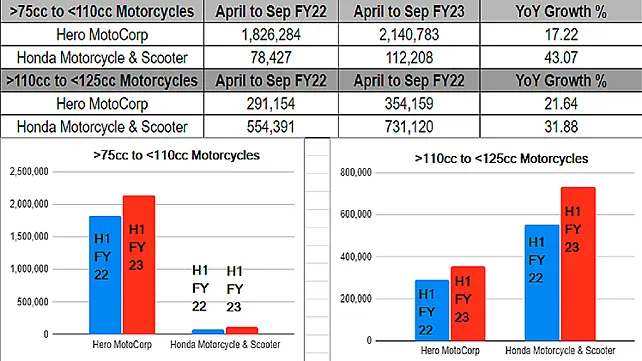 Hero MotoCorp, and HMSI Sales During H1 FY23 (upto 125 cc)
HMSI, however, leads the 110-125 cc motorcycle segment where against 554,391 units sold in the first half of last fiscal, it retailed 731,120 units this year, a YoY growth of 31.87%. Bajaj and Hero also fared well in this category. The former, against 222,583 units retailed in the first half of FY22, sold 344,789 units this year. Hero domestically sold 354,159 units this year against 291,154 units last year.
YoY, Bajaj grew 54.90%, whereas Hero MotoCorp grew 21.63%. The former retails Boxer, CT, Husqvarna, KTM, Platina, and Pulsar motorcycles in this category. Honda's top-selling brand is the Shine which continues to do brisk business.
Hero's leadership status in the overall commuter motorcycle space is thanks largely to the Splendor brand which has been a huge draw for decades now. The setback in September has been attributed to weak demand in markets like Uttar Pradesh, Jharkhand and Bihar and it remains to be seen if this trend will continue. Should that be the case, HMSI may emerge tops once again with its Activa scooter leading the fray. Eventually, rural India will play a big factor in fuelling Hero's commuter motorcycle sales.