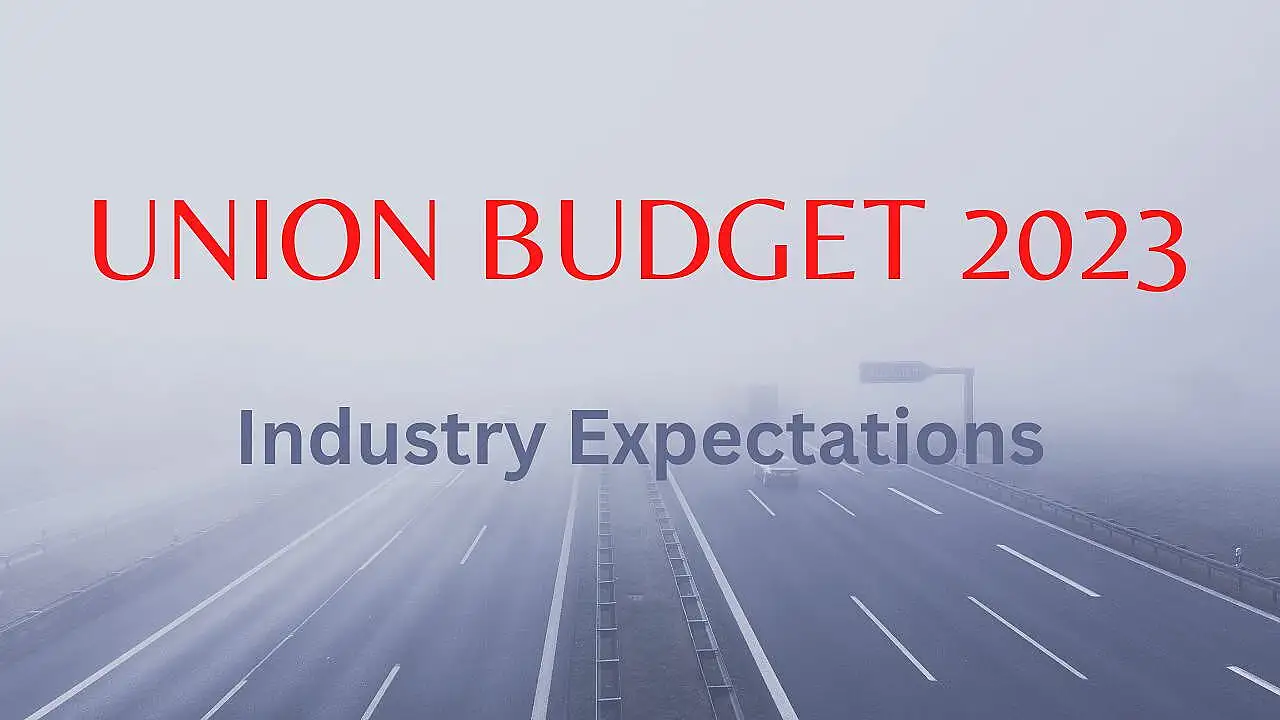 With just a couple of days to go before Nirmala Sitharaman, Union Finance Minister presents the Union Budget for the year 2023, the automotive industry – players in the electric vehicle (EV) domain in particular – are making earnest appeals to the Indian Government to offer a level playing field for all stakeholders.
While EVs have remained a priority area for the incumbent government, some setbacks are yet to be addressed. The demand is clearly for further relief and concession in EV manufacturing and selling.
Interestingly, last year's Budget had a very special focus on battery swapping. The budget tried to promote swapping of batteries with Advanced Chemistry Cell (ACC) batteries to decouple battery costs from the upfront costs of purchasing EVs, thereby driving EV adoption.
Additionally, it offered flexibility to EV users by promoting the development of battery swapping as an alternative to charging facilities and established principles behind technical standards that would enable the interoperability of components within a battery swapping ecosystem, without hindering market-led innovation.
The 2022 budget also hinted at encouraging partnerships among battery providers, battery OEMs and other relevant partners such as insurance and financing, thereby encouraging the formation of ecosystems capable of delivering integrated services to end users, while also promoting better lifecycle management of batteries, including maximising the use of batteries during their usable lifetime, and end of life battery recycling.
Focus on GST
There is a unified demand for a standard rate for GST on battery swapping. Siddharth Kabra, Co-founder and CEO, VoltUp expects Nirmala Sitaraman, Union Finance Minister to consider bringing the GST rate on battery swapping down to 5% from the current 18%. This would be at par with EVs that attract a 5% GST.
To enable robust battery production in the country and give a boost to Atmanirbhar Bharat, Kabra hopes the Central Government "considers adding the battery swapping industry as a category to FAME policy". This has been a long standing demand of battery swap players.
Speaking of incentives, Ketan Mehta, Founder & CEO, HOP Electric Mobility requests the government to streamline the PLI scheme, bringing clarity in the provisions and related benefits. He has also made the same request for the FAME II scheme. An environment enabling a level playing field between start-ups and established players in the EV vertical is also on his wish list.
"The applicable GST levied needs to be reformed and rationalised – anticipating a curtailment in the current GST on lithium-ion battery packs and cells from 18% to 5%," he says.
Akash Gupta, CEO and co-founder, Zypp Electric calls for reduction in GST for EV servicing. The EVaaS industry is anticipating GST rate to be reduced to 5% for EV-led services like last-mile deliveries and battery swapping, among others, Gupta says.
Furthermore, even though the EV market is currently expanding quickly, there are concerns about cutting off subsidies, which would severely restrict the sector's growth. "In order to promote the use of electric vehicles, I believe it would be smart to extend the incentives for at least another year," appeals Gupta.
The Indian EV enterprises are searching for larger funding sources, but the nation's economy still "lacks significant VCs who are well informed about the EV industry", Gupta says.
Focus on Charging Infrastructure
Dr Amitabh Saran, Founder and CEO, Altigreen expects the government will provide more CAPEX subsidy (up to 40-50%) to install/set up charging infrastructure across India. "Range anxiety is one of the major challenges that have to be addressed by developing a robust charging infrastructure," says Saran.
Similar voices have been echoed by many other start-up founders, including Visakh Sasikumar, CEO and Co-founder, Fyn Mobility, who believes more subsidies and incentives for setting up EV infrastructure (charging & parking facilities) can further help push the growth of the sector.
Rajat Verma, CEO & Founder, Lohum Cleantech says a circular economy of battery raw materials will boost India's energy security and uplift domestic manufacturing. Government support can greatly accelerate this shift and magnify its rewards, Verma says.
FAME II Subsidies
The electric two- and three-wheeler industry has also requested standardisation of battery voltages and form factor along with the extension of FAME II subsidy to promote the conversion of ICE vehicles to electric.
Various E3W makers are also hoping that this year's budget will increase the FAME II subsidies for the L5M type three-wheelers. Notably, the e-auto segment has undergone rapid electrification transformation and might prove to be a major source of enhancing last-mile connectivity.
"As the ambit of EVs expands, we hope that the upcoming Union Budget considers increasing the FAME-II subsidy for the e-auto (L5M) segment to INR 15,000 per kWh or 40% of the ex-showroom cost, whichever is lower in line with EV two-wheelers," requests Hyder Khan, CEO, Godawari Electric Motors.
Sulajja Firodia Motwani, Founder and CEO, Kinetic Green expects support for e-mobility to continue with the extension of FAME-II by another three to five years. This will help in building "a long-term foundation for the EV segment in India" by making EV mainstream with a 20-25% penetration, she says.
It is imperative to mention that FAME has helped increase EV penetration, but only 5% penetration has been achieved until now. If the subsidy is not extended, the cost of EVs would increase substantially and it would delay and derail the e-mobility movement, Motwani says. She further urges the Government to lower the import duty on battery cells for 3-4 years to support EV movement until localised production starts.
Other Demands
Several players in the ecosystem expects the budget to focus on ease of business and encourage more local players to enter the market. Areas like component localisation, access to components, etc, if addressed, will help Indian companies build competitive products at competitive prices, Arjun Sinha Roy, Co-Founder, iRasus Technologies suggest.
He also views that the urgent need of the hour is to drive reliability, interoperability, and economies of scale across all parts of the EV ecosystem. Some sectors that need support and push from the Government are batteries (both hardware and software), OEM, and charging infrastructure.
Speaking of adoption, Sakshi Vij, founder and MD, Myles Cars, believes that while the commercial/logistics sector has seen good adoption, the individual vehicle owner is still on the fence. "If the budget addresses issues such as high initial cost of ownership through incentivising individual vehicle owners, the EV adoption will see a boost," Vij notes.
Ease of registration, electric bill incentives as well and carbon footprint saving incentives could be a step in the right direction for individual travellers as well, she says.
The logistics sector also expects the government to consider subsidising the running of EV fleets service, which currently attracts a GST rate of 18%.
Moreover, the commercial EV segment, which is expected to be a key growth vertical, is faced with a lack of financing options. Uday Narang, Founder and Chairman, Omega Seiki Mobility requests the government to help enable financing options for commercial EVs. "All the national, state, and cooperative banks expect the government to provide financing at the equivalent rate of ICE engine vehicles," Narang says.
The auto industry also expects some form of support from the government in terms of components. Atul Bansal, CFO, Yokohama Off-Highway Tires expects remission of duties and taxes with relation to exports to apply both to SEZ and EOU. He calls for a PLI scheme for tyres, "as India foresees a big growth opportunity in the industry".
In Conclusion
The auto sector considered last year's budget as progressive and thanks to various Government interventions, the industry witnessed a healthy growth. Given the macro-economic scenario, the industry expects the Government to continue to retain growth orientation.
A release from Toyota Kirloskar Motor says continued economic reforms and infrastructure upgradation, along with special thrust for the rural economy as well as keeping a check on rising interest rates, would be important for sustaining good demand.
"The Government has also been pushing for greater self-reliance while directing the future growth towards greener and more environment friendly technologies. For this, multiple green technology pathways are being encouraged to achieve national goals of fossil fuel and carbon emission reductions. This includes incentives provided under various PLIs, policy support extended for electric mobility, alternate fuels like Ethanol and Bio-CNG as well as the recent announcement of the ambitious hydrogen mission.
Keeping in line with the government's push for greater self-reliance, while directing the future growth towards greener and more environment friendly technologies, TKM hopes the policy initiatives will continue in order to accelerate rapid consumer adoption of green technologies.
Also Read:
Budget Aims To Propel Long-term Growth Of Indian Economy
The Union Budget Is A Mixed Bag For Defence, Civil Aviation Sectors