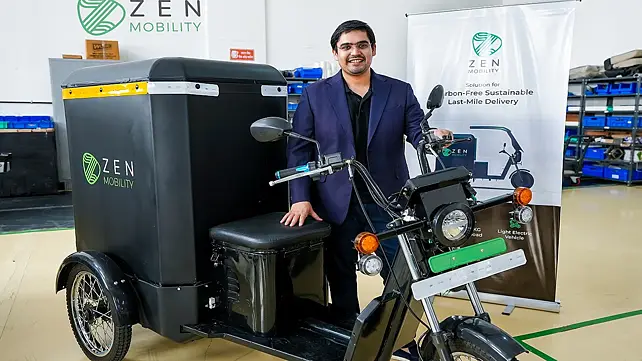 Namit Jain with Zen Micro Pod
Gurugram-headquartered Zen Mobility aims to change how last-mile and first-mile deliveries are done in India. Namit Jain, Founder & CEO, Zen Mobility, in a conversation with Mobility Outlook, noted that the company's Micro Pod is not only safer for riders but also economical for delivery and logistics companies in terms of the total cost of ownership (TCO).
In numbers, the company says it has received orders for over 10,000 Micro Pods from different logistic companies and has conducted pilots with several of them already. Launched in two variants, namely R5x (25 km range) and R10x (40 km range), the Zen Micro Podwill be required to be registered under the L3/L4 category in India. Notably, both variants offer a payload capacity of up to 150 kg.
Jain said, "Customisation is an added advantage as it opens many doors but what's more important is the fact that this vehicle is built for a specific purpose. This solution is safer than the electric and ICE motorcycles being used for logistics and deliveries." Via customisation, the company is looking to cater to consumers who have otherwise been neglected, for example, ice-cream vehicles, milk delivery vehicles, cold storage vegetable vendors, and more. Jain confirmed that the company is carrying out a pilot run for refrigerated boxes with a couple of vendors.
As per the company, the vehicle operates at a minimal running cost, consuming only four units of electricity with a charging time of approximately two hours. Jain said that while the first set of vehicles has stationary batteries, the company is also actively exploring battery swap technology, and its plans also include working on the charging infra.
Also Read: Plastic Beyond Cabin Makes NTF Bet On Value Added Products
An Electric Four Wheeler Is Next
The company is of the view that this Micro Pod is going to be its bestseller. However, it also has plans to introduce a logistics and delivery-specific electric four-wheeler named Maxi vehicle, which will feature a flatbed skateboard platform.
Jain explained, "This is a huge market we are entering in. For instance, only Flipkart is operating over 100,000 delivery motorcycles. Then there are the likes of Amazon, Snapdeal, Myntra, and various other logistics players."
Further, the company sees logistic fleet operators like Bluedart, Zypp and Zyngo as their natural partners. Jain believes that direct consumers and logistics fleet operators will drive the sales of Micro Pod and the upcoming Maxi four-wheeler.
"In this industry, you have to collaborate, and our primary goal is to have as many partners as we can," he explained.
As per the company, the Micro Pod had undergone rigorous testing of 150,000 km across diverse terrains and weather conditions, proving its ability to perform consistently in demanding environments.
Also Read: Decoding Alt Mobility's B2B EV Leasing Model
The Key Part
Taking the first approach, the company has already figured out the solution to financing these vehicles, which otherwise has become a peril for a large part of the industry.
"We started Zen Mobility by solving the financing issue. Our collaborations extend to renowned leasing and rental companies," Jain explained. He says that understanding that only up to 95% of its customers will buy these using financing and lease options was one of the tipping points of the company.
Depending upon the use case, the Zen Micro Pod can be leased for up to INR 9,999. The company says it has also partnered with different NBFCs to help customers get the vehicle financed instead of the lease model. The company has established a production line in Manesar with a capacity of 100,000 vehicles annually, and mass production is set to begin in June 2023.
As per a report by Research and Markets, India's logistics market is estimated to be $435.43 billion in 2023 and is expected to reach $650.52 billion by 2028, growing at a CAGR of 8.36%.