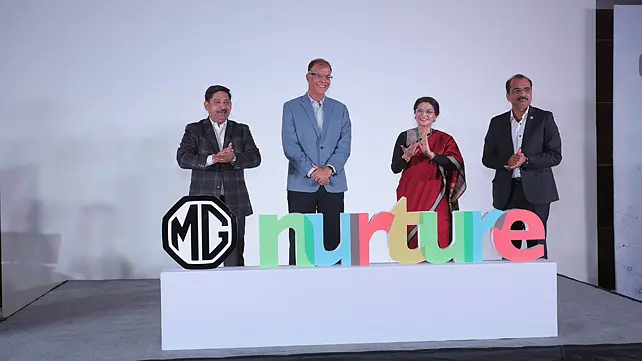 MG Motor India on Thursday signed MOUs with 22 colleges as part of its MG Nurture programme to upskill more than 25,000 students in four years. Meanwhile the plan is to add seven more institutes in the next four months.
The initiative will impart future-ready skills to students by way of hands-on and experiential training on electric as well as autonomous and connected Vehicles in various engineering colleges and ITIs.
Stating that community service was one of the key pillars for MG Motor, Rajeev Chaba, President, and Managing Director, MG Motor India, added that the company would join hands with institutes and learning partners to design curricula not just for engineering students but also for diploma and ITI courses.
Initially starting with EV and connected car courses, he said the idea is to evolve over time and add courses that are significant to the evolving mobility industry.
A press release from MG Motor India stated that the holistic skill development programme will be conducted along with technical institutes. This will also include campus-to-corporate programmes to help students hone their soft skills and make their transition to the corporate world easier.
For engineering students, the course is offered in the sixth and seventh semesters, and fourth and fitfh for those in the ITI/Diploma.
The company will also provide internship opportunities (need basis) to students and give preference in placements to exceptional graduating students under the MG Nurture initiative.
The education partner, Skill Lync, will provide internships and mentorship opportunities for students, allowing them to gain valuable experience and skills in a professional setting.
Additionally, the company will collaborate with colleges to develop and implement a curriculum that aligns with the latest industry trends and standards.
Chaba said enabling and empowering youth through continuous skilling, reskilling, and upskilling was important for them to contribute to society.
Tejal Amin, Chairperson, Navrachana Education Society said skills make a person a life learner as it adds. 'As a country we should put in efforts and resources to skill people in new age technologies,' she added.
Also Read
MG Motor Eyes Profits in 2023, To Explore Options Going Forward
MG Motors Partners Gujrat Engineering Colleges Under The MG Nurture Initiative