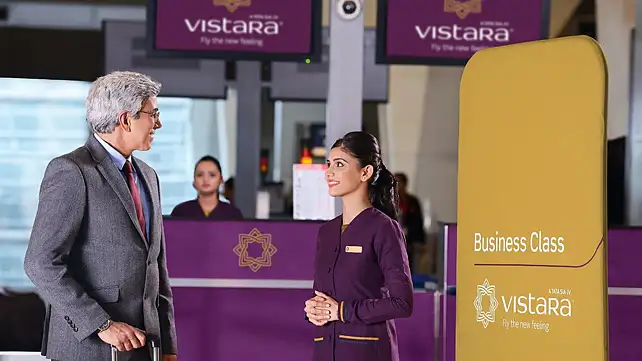 The full-service carrier Vistara has achieved its first net profit since inception for the quarter that ended December 2022, where it grew its capacity by 37% and passengers by 47% compared to the same period last year.
The airline's fleet increased to 53 aircraft in 2022 and crossed the $1 billion revenue mark. Vistara is now India's second-largest domestic airline, with a 10% market share. It garnered a 10.4% domestic market share in July 2022, a position it has retained since.
Vinod Kannan, CEO, Vistara, said 2022 has been a phenomenal year for the airline in terms of its operational and financial performance, with significant network and fleet expansion and sustained growth over the last few months. "We are now aiming for higher goals as we enter the next phase of our growth journey," he added.
Vistara flew more than 11 million passengers in CY22 and operated close to 8,500 flights per month. The airline has flown more than 42 million customers since starting operations.
Vistara's domestic network grew by over 50% in 2022, with six new routes, including two new destinations (Coimbatore and Jaipur).
The carrier grew its international network by over 180% in 2022 and added seven additional routes, including three new destinations (Jeddah, Abu Dhabi and Muscat).
The airline operates from its hubs in Delhi and Mumbai and operates more than 75 and 50 daily domestic departures from the two cities, respectively. It currently has a fleet of 52 aircraft, including 42 Airbus A320neo, five Airbus A321neo, two Boeing 737-800NG and three Boeing 787-9 Dreamliner aircraft.
Also Read:
Vistara To Merge With Air India