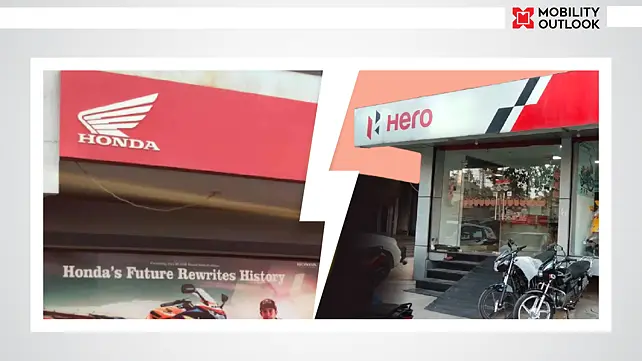 Against 236,253 units of Hero MotoCorp registrations, a total of 269,733 units of HMSI 2Ws were registered in September 2022
Honda Motorcycle & Scooter India (HMSI) has overtaken Hero MotoCorp in terms of monthly two-wheeler (2W) registrations for both motorcycles and scooters. Hero MotoCorp, nonetheless, continues to lead the charts in overall two-wheeler sales for the year by a significant margin.
Data sourced from Vahan portal till 5 pm on September 30, points out that against 236,253 units of Hero MotoCorp registrations, a total of 269,733 units of HMSI 2Ws were registered in September 2022.
While the segment-wise break-up of the registrations is yet to be released, HMSI has maintained a strong sales run of its scooters in India. The Japanese two-wheeler maker has dominated the Indian scooter market for the past several quarters, noted Atul Chandel, Director, AutoBei Consulting. Honda sold 695,388 scooters in the April-August 2021 period, whereas in the same period this fiscal, it sold around 1,062,943 scooter units, denoting a 52.86% YoY growth.
In the same period last year, the overall industry had registered sales of 1,438,270 scooters. That has grown to 2,191,208 units in the April-August period this year, registering a 52.35% YoY growth.
Similarly, motorcycle sales grew 26.11% YoY in the April-August 2022 period to 4,292,050 units as against 3,403,323 units that were sold in the same period last fiscal.
In motorcycles, HMSI grew 40.96% YoY with sales volume of 758,157 units in the April-August period this year. In comparison, the Japanese OEM had retiled 537,851 motorcycle units during the same period last year.
Motorcycle sales for Hero MotoCorp, on the other hand, grew by 23.53% YoY during the analysed period. From the 1,678,605 units of motorcycles it sold last year, the company has retailed 2,073,580 motorcycle units from April to August 2022. The company's scooter sales, meanwhile, grew 11.08% YoY with volumes of 136,010 units this year against 122,447 units it had retailed in the April-August period last year. (SIAM Data)
"More than scooters leading the sales for Honda in India, it is about their R&D and service standards. Being exceptional in these domains has helped the OEM to carve a place for themselves in the heart and minds of the end consumers,' Chandel said.
MoM 2W Registrations Figures For Honda And Hero MotoCorp
| | | | | | | | |
| --- | --- | --- | --- | --- | --- | --- | --- |
| OEM Name | September | August | July | June | May | April | 2022 (Jan to Sep) |
| Hero Motocorp | 236,253 | 294,864 | 326,127 | 383,859 | 460,234 | 411,920 | 3,120,941 |
| Honda | 269,733 | 279,025 | 273,229 | 286,059 | 291,854 | 295,074 | 2,481,959 |
| GAP MOM BTW 2 OEMS | 33,480 | 15,839 | 52,898 | 97,800 | 168,380 | 116,846 | 638,982 |
Will EVs Make A Difference?
Neither Hero MotoCorp nor HMSI has introduced any electric two-wheeler (E2W) in India thus far. However, the former is gearing up to launch its first E2W during the first week of October.
"Electric two-wheelers will make a difference but not in the short-term scheme of things. The results of Honda and Hero MotoCorp launching electric two-wheelers will only be evident after six-eight months,' Chandel said.
He feels that given HMSI's prowess in the electric vehicle market in countries like Japan, Korea, Thailand, and China, the OEM will have the upper hand in E2W sales in India, and the early mover advantage might not work in favour of Hero MotoCorp.
"Look at Tesla. It is an example of being an early mover in the EV game, but today its numbers are lesser than BYD. It is all about the quality and reliability of the products now," Chandel noted.
Bigger Bikes
Hero MotoCorp is also testing three bigger motorcycles for the Indian market (above 300cc). The OEM, apart from the XPulse 200, has not had much luck with any of its bigger motorcycle offerings. On the other hand, Honda recently launched CB300R, and now has over four motorcycles in the 250cc to 350cc segment. The OEM held 4.15% of this market in June 2022.
Similarly, HMSI does not have a 100cc commuter in its stable yet.
"Hero MotoCorp seems to have created a brand impression of being a commuter OEM here. They will have to work very hard to change this brand image," Chandel said. He believes Hero MotoCorp launching bigger motorcycles and HMSI launching a 100 cc commuter product might change equations for both the OEMs.
Also Read
HMSI 100cc Bike Likely To Hit Roads Next Year