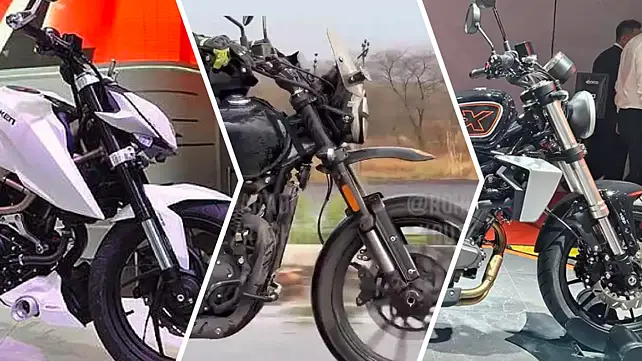 Upcoming TVS, Hero-Harley, and Bajaj-Triumph motorcycles in the above 250 cc category
Royal Enfield (RE) has clearly created the biggest market for 250 cc plus motorcycles with other rivals combined unable to sell even half of its volumes.
However, with upcoming retro and scrambler motorcycle launches from Bajaj Triumph, Hero Harley and Honda, RE will face different challenges in this space.
Preetesh Singh, Specialist CASE and Alternate Powertrains, Nomura Research Institute Consulting and Solutions India, says while RE has a "strong foothold" in premium motorcycles, there seems a "lack of innovation" in product and customer experience in the industry.
Yet, new launches might impact RE "but not significantly". In his view, the 250-350 cc is still untapped and "any relevant new product will mostly create its own customer base rather than eating into RE's share".
Pricing is another critical aspect in the 250 cc and above motorcycle segment. RE has been able to position many of its models in the INR 1.7 lakh plus bracket. Consequently, RE 350 motorcycles compete against several similar capacity models as well as smaller displacement bikes. The chart below shows the similar strategy in the up to 650 cc segment.
Price chart for above 250 cc motorcycles
No More RE's Playground?
While factoring in the number of 300 cc plus motorcycles sold by Jawa and Yezdi (of Mahindra's Classic Legends) for the last few years, it is clear that the consumer is embracing change beyond RE offerings. Classic Legends has sold a monthly average of around 3,300 motorcycles for the last six months.
Similarly, Honda Motorcycle & Scooter India had sold nearly 60,000 units of its H'ness and CB350R models last year. The company launched CB300F, its fourth motorcycle in the 250-350 cc category, in 2022.
According to Chris Dsouza, an investment bank associate who has had a stint at Goldman Sachs as an analyst, consumers do not have "many choices" in the segment. "How many competing choices do they have," he asks.
Also Read: Brazil To Become Royal Enfield's Second Largest Market: CEO
However, a lot will depend on the extent of localisation in the upcoming RE models. Experts say that its offerings are more economical than rivals because of high local content. The dynamics might also change in the 500-700 cc category once BSA launches its competitors to the RE Twins, even while the latter is reportedly planning new motorcycles on its 650 cc platform. Also on the cards is an adventure tourer based on an all-new 450 cc platform.
"Hardcore brand loyalists might continue to stick to REs. However, a first-timer with the aspiration and disposable income — millennials don't shy away from EMIs — will consider giving Hero Harley a shot purely on the basis of the overall superior brand factor 'Harley' can buy you," adds Dsouza.
Till now, this segment has largely remained RE's domain and it sold 834,895 motorcycles during FY23. This was its best ever fiscal which recorded 39% growth over the previous year. As Singh says, RE bikes takes up 90% of the 350 cc segment.
MoM sales for Royal Enfield, and Classic Legends
EVs Pose New Challenge
The growth of electric two-wheelers is also a challenge RE will have to be geared up for. While numbers in the segment it operates in are not substantial yet, they could pick up in the future.
For instance, the launch of Ultraviolette F77 has proved that the Indian market has an appetite for bigger electric two-wheelers. The fact that this startup is backed by TVS Motor is also an indication of a certain faith in its growth prospects and also where the market is headed.
"There are companies trying to build EV models in this segment as well but all this will take time. In the short term, there will be limited impact on this segment due to EVs," says Singh.
Also Read: Royal Enfield Rules 250-800 cc 2W Segment, Global OEMs Falter
RE's parent company, Eicher Motors, recently picked up a stake in European electric motorcycle manufacturer Stark Future. At the time of the announcement, Siddhartha Lal, MD & CEO, said, "They have created an absolutely astounding motocross motorcycle – the Stark VARG as their entry into the EV world. We believe that Stark Future has the highest potential for real breakout growth in the EV leisure space with this model, and the potential to use this strong base to extend into other contiguous segments and beyond."
According to Dsouza, as EV technology improves and becomes more affordable in the long term, "we could see a shift in customer preferences towards electric two-wheelers" which in turn could hit demand for petrol-powered bikes.
YoY sales for Royal Enfield,and Classic Legends
Win-Win For Component Makers
As bigger motorcycles increase their presence in India, this will translate into bigger opportunities for component makers. Analysts who featured in this story say the average ticket size for parts that go in the 250 cc plus motorcycles is much bigger than for those below this range.
OEMs, in their turn, can explore greater export opportunities for these bikes.