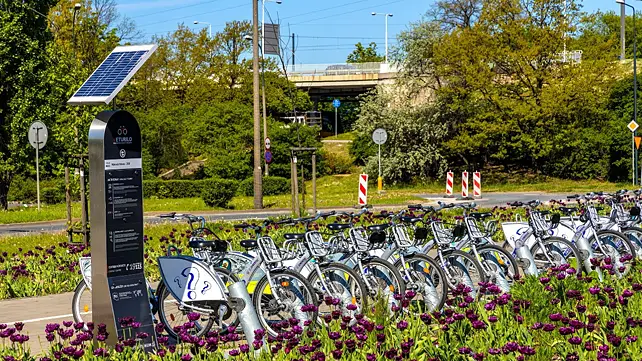 Charging of electric bikes using solar power. (Representative image)
Electric vehicles might be the key to linking the renewable power and low-carbon transport sectors, for the good of everyone and today, too few electric vehicles are powered by renewable energy. And this focus is essential for large vehicle markets.
Great Opportunity for e2Ws
There is great opportunity for electric two-wheelers (e2W) with green ecosystem. India is the largest two-wheeler manufacturer in the world and internal combustion engine (ICE) two-wheelers represent a key volume segment for commuter on Indian roads (~80% of new vehicle sales, yearly~14 mn vehicles are sold and consumes 60% petrol in the country) [1].
Currently the availability of cost effective e2W models with higher range per charge is very less in the mass market. This would make the need of sufficient and widespread charging infrastructure support crucial to seamlessly shift from ICE to e2W. Research shows that e2W manufacturing requires more energy than manufacturing their equivalent ICE because of the e2W's batteries, if those batteries are produced in a factory powered by fossil fuels.
Overall, e2Ws typically have much lower life cycle greenhouse gas emissions than the conventional vehicle [2]. Utilisation of renewable energy charged batteries for e2Ws can be a great opportunity for carbon neutrality aim in India. India has set the target of meeting 50% of its energy requirement through renewable energy by 2030, and e2Ws can benefit a lot from this nexus of clean energy and mobility.
The setting of bringing in various clean energy sources, consumers and storage facilities, which may be named as micro-grid can be a good avenue. In addition to providing revenue, the grid can typically harmonise the possible fluctuating energies and electricity consumption in a way which is ecological and economical.
Challenges In Translating A Know-How To A Best Practice
Often, there is absence of demonstration of such engineering solutions and businesses, which can be resilient and sustainable. This deficiency can even prevent market players to get into the game. And the lack of market players in the game of sustainable development can cost the planet a lot.
In India, two key bodies under the Ministry of Power, namely Energy Efficiency Services Limited (EESL) and Bureau of Energy Efficiency (BEE) are nodal agencies for roll out of public charging infrastructure for electric vehicles. They are examining whether learnings from such existing projects provides effective solutions for developing energy efficient charging infrastructure with reduced dependence on thermal power grids for electricity [3].
The grid can typically harmonise the possible fluctuating energies and electricity consumption in a way which is ecological and economical. (Representative image)
It is important to understand the lessons learnt from various regions on the success of renewable energy integration and electric mobility, so that those lessons help the new entrepreneurs and can assist the policy makers to come up with right solutions for a region. Below are two good examples from Europe, which demonstrates a feasible pathway for utilisation of renewable energy for charging e2W batteries.
Riding on sunshine: flexible energy access to power electric mobility
The EUREF campus in Berlin-Schoeneberg, Germany is a large urban district with more than 5,000 people working, researching, learning in more than 150 companies, institutions, and start-ups in the field of energy, mobility, and sustainability. Since the start of the project in 2008, this approximately 5.5 hectare urban district, which has been meeting the federal government's climate targets for 2045 since 2014, has developed into a real laboratory for the energy transition that is unique in Europe.
Mobility2grid was one such successful project in this campus and the project aimed at producing renewable energy sources, mostly solar photo voltaic for charging private and commercial electric vehicles. The project succeeded in showing the technical feasibility, and that the lessons learnt from the nexus of energy and mobility are worth noting.
According to Karoline Karohs, Project Manager, Mobility2grid, "This aims at implementing and transferring research results from laboratory conditions to practical applications, and it could be shown that fleets of electric cars are able to contribute to a local smart grid that is fed by renewable energies."
Acceptance from customers was considered an important need as the success of the project so that there is participation in the journey from laboratory to reality. Karoline mentioned, "The learning of the project was that participation of customers is important and they need to know what they will get and it is also important to understand the responsibility of who owns the battery."
"Energy collectives, in the form of co-operatives can be very useful in providing the elements of transparency and economic participation in the nexus of energy and mobility," said Karoline. Today, the European Commission defines energy communities as a key element in clean energy transition [4]. One main advantage of this community or cooperative is that they can help provide flexibility to the electricity system through demand response and storage. In other words, they act as efficient micro-grids.
Commitment of co-operatives improve the public access to electric transportation
One story worth mentioning on the implementation of the community-based electric grids is about Ecopower. This energy cooperative based in Belgium unites more than 60,000 citizens, who together produce green, Belgian Energy and saved more than 65,000 tons of CO2 in 2020.
According to Jim Williame, Algemeen Coordinator, Ecopower, "The key point of the energy co-operative would be a common interest or a motivation from which a business case can be found. For Ecopower, the motivation is that people want to have a hand in the energy transition, and they can invest in something they support completely. And even get a small dividend on their investment."
Ecopower is even collaborating with The DeeldeZon, another energy co-operative for projects setting up charging of electric cars powered with solar energy. With the support of the instrument of European Union for local government, Interreg Flanders-Netherlands, this collaboration aims to connect nearly 24,000 solar panels and 20 smart charging stations by end of 2022.
Community-based enterprises can have competitive advantages in producing, providing, and distributing energy. (Representative image)
One installation of sunroof of this collaboration was in the city of Mortsel in a theatre company. With 13.8 kilowatt peak (kWp) on the solar roof, Renault Zoe shared car was coupled. The performing artists of the theatre company uses this facility and they also use the car to drive to performances to other cities. Even the local residents get to know the benefits of electric driving.
These examples show that it is possible to bring solutions that can reflect the economic and social needs of a region, at the same time keeping up the aspiration for green economy.
Often, these community-based enterprises can have competitive advantages in producing, providing, and distributing energy. This is because they provide democratic local control over energy issues and can effectively harness locally available decentralised renewable energy.
Way Forward For E2W Electrification
While India stands to benefit in a large way by switching to e2Ws from ICEs, the challenges like lack of sufficient charging infrastructure often comes in the way of early mass adopters. Energy co-operatives can be a key enabler to this nexus, because they can facilitate sustainability in the battery charging ecosystem.
The Government of India should encourage the establishment of such enablers through policy support like identifying locations on the grid, where including renewable energy with e2W charging infrastructure can provide the greatest benefit, using targeted incentives for facilitators in these locations and providing unbiased information to raise awareness of the benefits of combining renewable energy and e2W charging technologies, thereby assisting potential project developers.
The need of clean energy is huge in countries like India, which has already taken a very ambitious renewable energy target. Community-based electric micro grids that can be developed using energy co-operatives in the country can accelerate achieving the nation's renewable energy target and simultaneously achieve transport electrification for the high-sales volume two-wheeler segment in the Indian market.
References:
[1] Anup, S., & Yang, Z. (2020). New two-wheeler vehicle fleet in India for fiscal year 2017–18. International Council on Clean Transportation.
[2] Hall, D., & Lutsey, N. (2018). Effects of battery manufacturing on electric vehicle life-cycle greenhouse gas emissions. International Council on Clean Transportation.
[3] https://www.deccanherald.com/opinion/panorama/ev-industry-is-booming-but-a-green-ecosystem-is-missing-1113587.html
[4] https://energy.ec.europa.eu/topics/markets-and-consumers/energy-communities_en
About the Author: Sunitha Anup, PhD, is a Researcher (Consultant) with The International Council On Clean Transportation (ICCT) based in New Delhi.