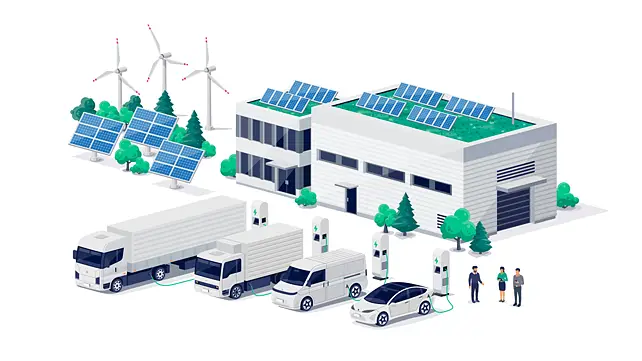 As the world transitions towards sustainable mobility, a holistic ecosystem to offset carbon emissions is imperative. India has been leading the electric vehicle (EV) revolution among emerging markets with ambitious net-zero targets. The government has set a target of electrifying 30% of its cars, 70% of the commercial segment, and 80% of the two and three-wheelers market.
Clean vehicles on the road sans supporting infrastructure would be a shot in the dark. Along with making transport sustainable, it is equally important to green the grid that has a high coal dependency with emissions above the global average.
India must continue its focus on integrating renewables into the power sector. This aligns with India's updated Nationally Determined Contribution (NDC) target at COP26 of achieving 50% of cumulative non-fossil fuel electric power capacity by 2030.
India must also reduce the carbon emissions intensity of its power grid from 725 grams of carbon dioxide (CO2) per kilowatt hour to 700 g CO2/kWh; only then can the nation hope to make the most of the transition to an electric fleet. Greening the grid and investing in smart charging infrastructure is one way to start.
Smart Charging: The What, The Why, And The How Of It All!
Smart Charging has recently garnered widespread interest from significant stakeholders, with various models in operation worldwide. One such approach is network charging, which involves establishing a network of renewable energy-based EV charging stations to enable on-demand charging. Customers can visit these stations and charge their EVs using power from renewable sources or offset their carbon footprint by purchasing renewable energy credits (REC) from recognised suppliers.
Another model is on-site renewables, which generate renewable energy (RE) for EV charging at charging stations or residential buildings. Two examples of this model include the Delhi government's EV charging infrastructure in residential areas and Nagpur's pilot project of solar energy-based charging infrastructure at bus depots. A similar pilot for commercial electric goods carriers and trucks will give a better understanding of their smart charging requirements.
Delhi has adopted the on-site renewables model in residential areas (representational image)
The dynamic pricing model can also help optimise the adoption of green energy for EV charging by reducing grid load and incentivising charging based on time of day and peak availability. For instance, daytime for solar-based charging is economically viable.
Telangana is amongst the first states in India to operationalise this model. Another example is the managed charging model that enables moderation of the power available for EV charging based on grid load and demand at a particular time.
A key challenge vis-à-vis EV smart charging is the wastage of the power stored in the vehicles' batteries. The vehicle-to-grid (V2G) technology is a possible solution. Under this model, EV batteries can retain power and transfer it back to the grid, for instance, during sustained periods of non-use. Various combinations of these models of smart charging can go a long way in greening the grid in a feasible and accessible manner.
Challenges, Opportunities On The Horizon
As India envisions an emissions-free future by adopting renewable energy and decarbonising the transport sector with EVs, scaling up investments in a smart EV charging network is crucial. While this presents several short-term challenges and subsequent opportunities, the benefits of a well-planned and executed smart EV charging network are plenty.
Building a charging station network requires a significant upfront investment, and finding suitable locations for these stations can be challenging. However, this also presents an opportunity for the government and private sector to collaborate and create a comprehensive plan for the rollout of charging infrastructure.
Progressive policies supporting green energy and EVs can accelerate the development of an infrastructure powered by public-private partnerships. City planners should consider revising their development control regulations and master plans to incorporate land parcels and areas for a dense charging network.
Financial institutions and NBFCs play a critical role in providing the necessary funding and support for developing adequate infrastructure. By investing in EV projects, especially in the commercial four-wheeler segment, financial institutions can reap high returns along with supporting India's RE aspirations. With EV sales at a record high, growing at over 2,000% and the likelihood of hitting six lakh by March 2023, creating a robust RE-powered charging infrastructure can lead to economies of scale.
Leveraging existing infrastructure, such as malls, theatres, and airports can also be an effective way to bolster the EV charging infrastructure. These facilities already have a steady stream of visitors and often have ample parking space, making them ideal locations for charging stations. Additionally, retrofitting existing buildings with EV charging capabilities can help optimise the use of existing infrastructure and minimise the costs associated with setting up new charging stations.
Another challenge is the potential strain on the grid as more EVs hit the road. This can be mitigated with a smart charging technology that balances EV charging demand with RE generation. That being said, with higher investment in new technologies such as a RE-fuelled fast and ultra-fast charging network, and extensive research, the sector can go from strength to strength, along with greening the grid. Not only can this reduce India's overall carbon footprint, but it can also lead to a significant decline in the cost of electricity and the pressure on the existing grid.
Renewable Energy Is The Way Forward
With a target of becoming net zero by 2070, India needs to strengthen its green fund. A sustainable path forward is to increase investments in a green grid. This will give a boost to infrastructure, thereby creating employment opportunities. The progress has been encouraging, but there's still a long way to go. In its year of G20 presidency, India must embrace the future by leveraging its capability of building a green economy.
About the Author: Ashpreet Sethi is Head of Public Affairs and Government Relations at EVage, an Indian electric vehicle automaker and automotive technology company based in Chandigarh.
Also Read:
HMSI Expands Renewable Energy Portfolio, Installs Second Wind Turbine In Gujarat
Embraer Bets On Renewable Energy Propulsion For Its Energia Concepts
GM's US Operations Will Use Renewable Energy Five Years Ahead Of Schedule