Srinivas Aravapalli has 35 years of diverse experience in various facets of product development, which includes deployment of innovative features and technologies across M&M product range, technology incubation & commercialisation through frugal engineering approach. At Mahindra, Srinivas played a critical role in the development and upgradation of Mahindra's flagship models XUV 500, Scorpio, Bolero and other products with several customer delight features, keeping pace with rapid technological advancements & regulatory scenario. He is instrumental in bringing out several state-of-the-art technologies which have transformed Mahindra's brand image from "Rural & Rugged to Global & Aspirational".
What is your take on the digital transformation in the automotive industry?
The rapidly changing automotive Industry is witnessing a striking transformation in the way vehicles are designed, manufactured, and are being utilised. The development of future automotive industry is anticipated to be completely divergent from what we were familiar with, and it is going to be fully digital.
Within the next two to five years, the automotive sector is expected to see the creation of a distinct digital and a connected ecosystem to cater to the demands of PACE (Personalisation, Autonomous, Connectivity and Electrification) technologies that have already emerged as the future of mobility.
Therefore, it is essential for all the stakeholders in the industry to adopt digital transformation/ advanced technologies to deliver future mobility solutions rapidly. This will unlock numerous offerings aligned towards the current and future customer needs and trends in the auto industry.
Additionally, data engineering is going to play a significant role as a part of digitisation in the mobility industry. When we put the data stored for decades to the right use, it can provide exponential results for the future mobility, such as Software Defined Vehicles (SDV).
What factors are going to catalyse this digitalisation?
Digitalisation is fast engulfing every industrial sector in offering an enhanced user experience and elevated value proposition to everyone involved. The automotive industry is no exception to this ever-evolving digital adoption.
A few key factors that strategically position digital mobility at the core of next-gen automotive products, platforms, and solutions include,
Customer demands towards mobility/ connected solutions that enrich overall user experience across owned and shared vehicles;
Faster evolution of next-gen OEMs to intensify the pace of innovation, which influences the contemporary OEMs to also become a technology provider than being a manufacturer;
Collaboration-driven innovation with new strategic partnerships between automotive OEMs, Tier 1s, and other technology service providers to build infrastructure for a PACE mobility ecosystem;
New ordinances from Government regulatory bodies mandates the industry to adopt digital practices and shift the focus on electric vehicles, green energy, self-driving, and cybersecurity, etc;
Advancement in technological innovations like cloud computing and IoT brings in the ability to upgrade/ unlock features in a vehicle through software updates.
Which digital technologies are fuelling this transformation in the automotive space?
There is strong belief that digital adoption will enable the mobility industry to unlock several potential possibilities, yielding tremendous business value. What exactly changes in the mobility landscape as we know can be fascinating and is a promising growth area.
Digital technologies are at the core of next-gen automotive solutions, which can directly translate to, creating customer/ prospect experience, better business value propositions like faster time to market, maximised production, optimised supply chain, etc. It can offer technology solutions for the entire spectrum of automotive industry ranging from digital enablement for SDVs, connected digital products, enterprise apps & IT transformation, smart & connected manufacturing and digital R&D.
These technologies, with much faster processing power from chip manufacturers and younger generations, might be able to give rise to seeing LIVE production-worthy versions of many concepts, led by innovation.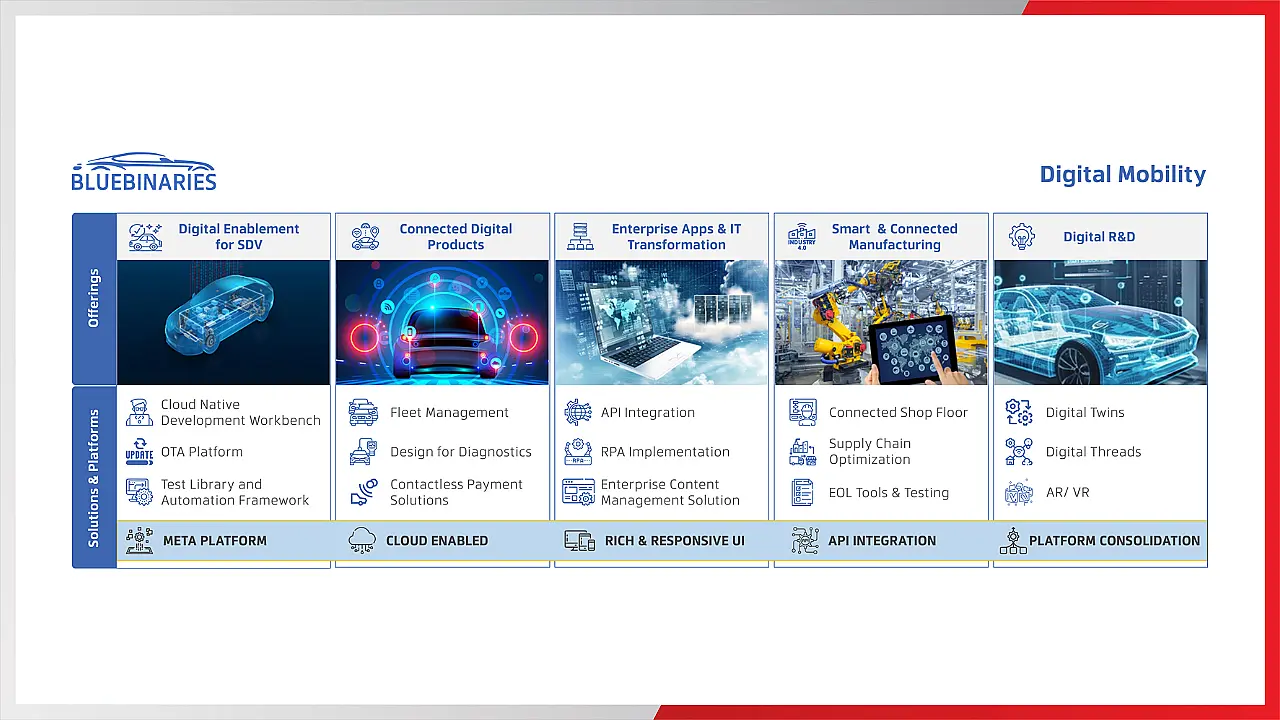 How do these digital technologies enrich customer experience?
As service providers embrace data-driven decision-making, the end user benefits from consistent, incremental improvements to the transportation ecosystem. When properly designed and implemented, digital mobility services are more efficient towards driving an enriched user experience.
In connected features, customers want a mobile/ web application to monitor, track and control the vehicle with a touch/ click of a button. They are willing to share personal data for better/ safer commute and lesser maintenance costs. Leveraging V2X solutions will be key towards improving overall travel experience, including shared mobility.
As per a recent Deloitte survey, customers want connected features but are not willing to pay additional money. They expect the OEMs to absorb this as a cost of running business/ cost of differentiation. Digital mobility solutions can help OEMs reduce inefficiencies in the overall vehicle lifecycle to give a better value proposition. Also, subscription-based features can be enabled/ disabled through software updates.
Personalisation of content delivery and enabling the customers to customise the features to their preference, gives a differentiated experience to the end users. Vehicle features, in fact, is the second most prominent reason before a final decision on vehicle purchase is made, says another Deloitte survey. Cost/ value of the vehicle continues to be the prime reason, while type of engine and vehicle body follows features.
Specifically in India, the primary reasons for a first time vehicle/ car purchase are family requirements and space, followed by quality of service, reliability, resale value, etc. On the other side, repeat buyers are looking for feature-rich, sophisticated vehicle experience with latest technology upgrades.
How should any organisation plan to embrace this digital transformation?
We've been a witness to major transformation in the traditional ecosystem and mobility partners. We've seen how this ecosystem has expanded beyond traditional boundaries arising from digital interventions, new age OEMs and their street-smart business models. This expansion has led to consolidation of trivial processes and regulations, which makes the digitisation initiatives much more than boardroom impulsive decisions.
Many of the digitisation initiatives failed because of either big bang approaches or lack of sequential preparation during early adoption. When it comes to digitisation in mobility, the blessing in disguise is the availability of G-Tons of legacy data, its interpretation and having an infrastructure to store and process the data before it becomes a meaningful information of use to help plan the transformation better.
While data always takes the centre stage, cloud and connectivity have always been the stalwarts of the digital journey, enabling decongestion and getting the load away from the actual vehicle itself. While we need the systems to learn and respond to our needs without instructions, the concern here is sharing of the data within the ecosystem partners, which might seem possible in future with right data assortment and processing.
Hence, we believe that digital journeys will only get better as our engineers and scientists look beyond quick solutions and create digital transformation journeys with incremental milestones out of the learnings.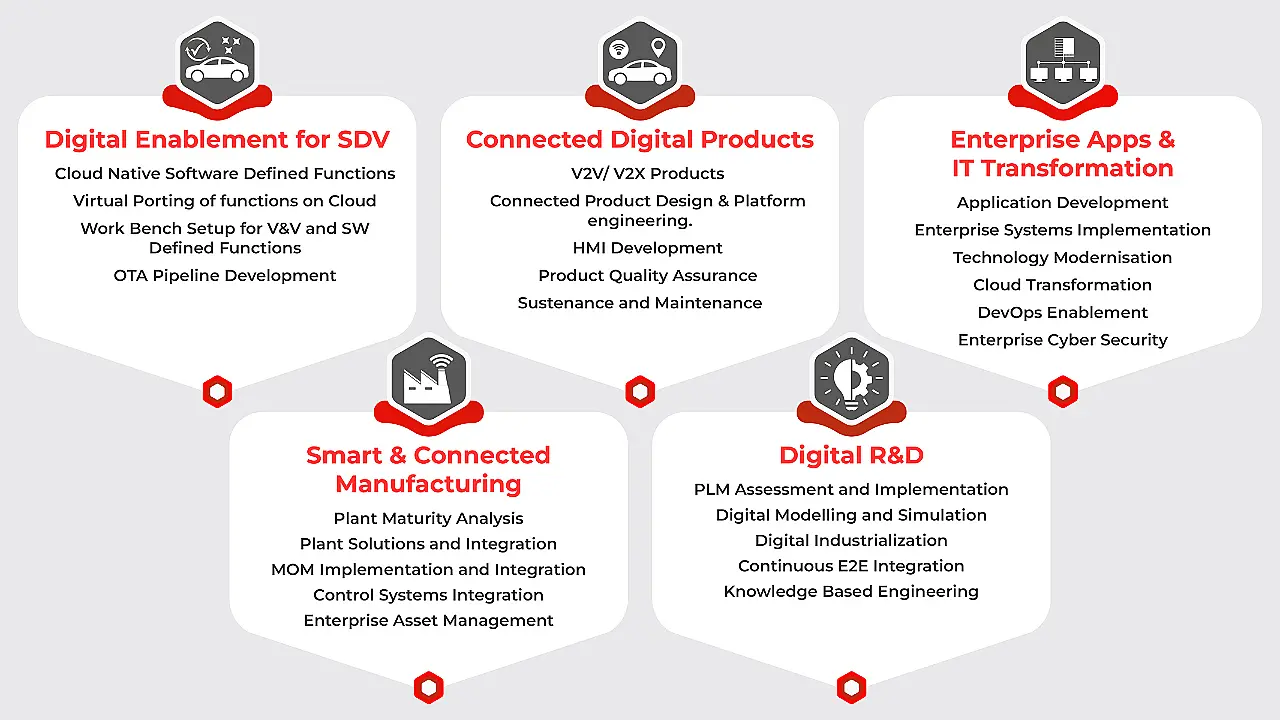 How is BlueBinaries helping organisations in adopting a digital journey?
BlueBinaries has been a story of interest with services, solutions and platforms towards future mobility, where a dedicated practice named 'Digital Mobility' has been making advances in digital enablement for SDVs, connected digital products, enterprise apps & IT transformation, smart & connected manufacturing and digital R&D. The core at which we operate in digital engineering has our foundational principles around customer, data, cloud, security, DevOps and automation.
How is our country prepared for this digital transformation?
Digital technologies are going to be the core and centre of all the major decisions in the automotive industry across the globe. SDVs are going to be the future of mobility and the entire ecosystem is rapidly gaining momentum to catch up with this exponential digital transformation. India, with its best foot forward in the IT space, is going to add tremendous value to this colossal digital shift in the global automotive industry, and it is only going to get more exciting from here.
Also Read
Hyundai Reveals Roadmap For EVs, Software Defined Vehicles
Coterie of Electronics, Digitalisation in Mobility
COVID-19 Accelerated Digitisation, Led To New Sales Methods, Changed Consumer Behaviour: Experts