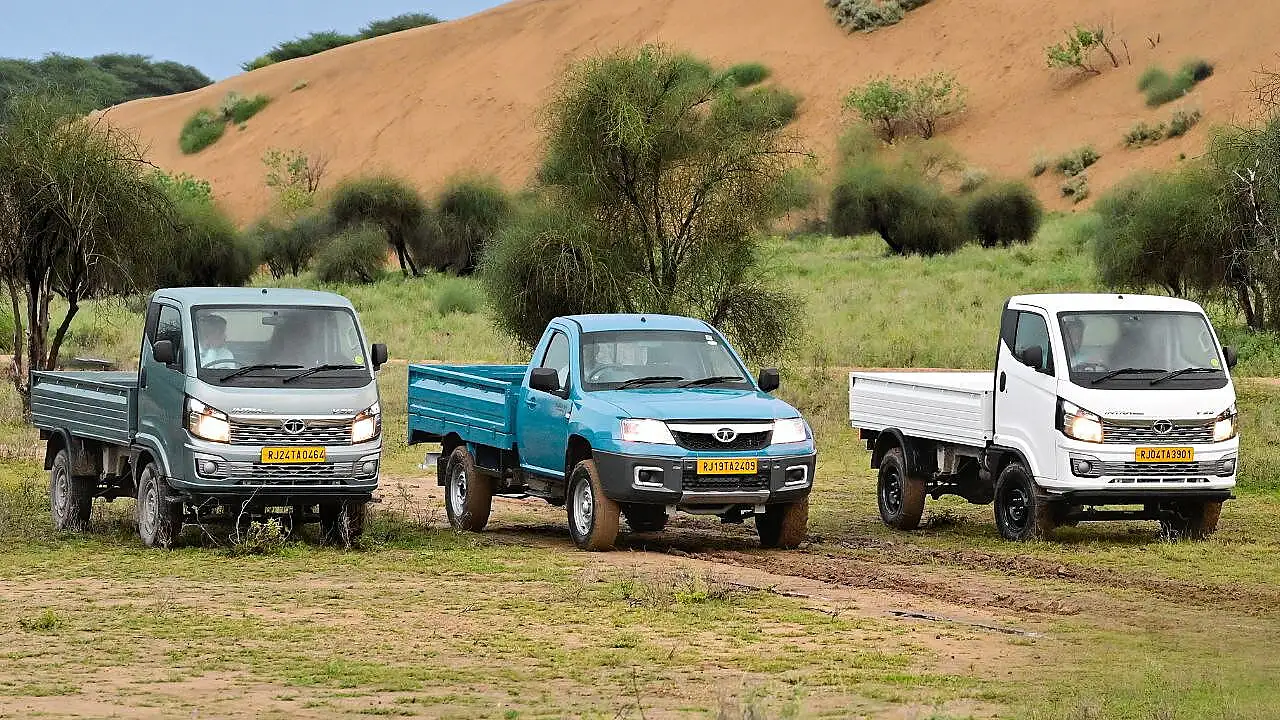 Tata Motors will prioritise electrification and gasification for its small commercial vehicle (SCV) portfolio, which will be part of intracity sustainable transport solutions.
The company is also betting big on this product segment going by what Girish Wagh, Executive Director, said at a recent event in Hyderabad. The ratio between pickups and heavy commercial vehicles is less than 1:3 in India (against 1:6 in the developed markets), which clearly means there is enough headroom to grow.
Vinay Pathak, Vice President, Product Line – SCV&PU, reinforced the point saying that China's total industry volumes are 1.5 million SCVs against around five lakh units in India.
The parc size of SCVs here is around 6.5 million units, with migration happening within this space to higher tonnage vehicles. This is due to higher consumption stemming from more per capita income.
Tata Motors has a 42% share in SCVs comprising over 2.5 million Ace models and around 100,000 units each of Intra and other pickups. Pathak was confident that this segment would grow in the years to come, thanks to the buoyant home delivery business. It is precisely for this reason that the company is eyeing this opportunity with its new pickups: Yodha 2.0 Yodha EX, Intra V 50 and Intra bi-fuel (CNG + petrol).
"Our endeavour is to bring in a paradigm shift by transforming first and last-mile transportation," said Wagh. With the SCV business model offering multiple products as mobility solutions, Tata Motors is bullish on the road ahead.
Developing Pickups
For this writer, it was fun to drive the fully loaded Yodha and Intra V50 both on rough roads and off-road. The vehicles were rugged enough while offering comfort and convenience to the driver.
According to Tata Motors, the range of pickups was developed based on customers' expectations and needs across the country. They have the highest load-carrying capacity (Yodha up to 2-tonne and Intra up to 1.5-tonne payload), the largest deck length and the longest range besides modern features to assure a safe and comfortable drive.
Girish Wagh and Vinay Pathak
According to Wagh, with all-terrain access now in place to reach the remotest locations, the vehicles can see lower double-digit growth over the next few years. Additionally, demand from first/last-mile connectivity will help both the Yodha and Intra series. Pathak added that Yodha would meet the needs in rural and remote hilly areas while Intra would be the right fit for cities.
The new Yodha series, with its 2.2 litre 100hp engine delivering 250 Nm torque in the band of 1,000 to 2,500 rpm coupled with gradability of 30% to 50%, can comfortably handle tricky terrain for speedy cargo movement. It comes in single and crew cab options with 1,200, 1,500 and 1,700kg rated payload options.
The Intra V50 smart pickup has a 1,500kg rated payload with a deck length of 2,960mm, wheelbase of 2,600mm and 188mm ground clearance. According to the company, it is India's first bi-fuel pickup with a 1,000kg payload offering a range of up to 700km. Powered by a 1.2-litre three-cylinder NGNA bi-fuel CNG engine, it delivers 106 Nm of torque in petrol and 95 Nm in CNG at 1,800-2,200 rpm.
"We always look for white space in any segment and develop products accordingly," Pathak told Mobility Outlook. While reiterating that product development had to be in sync with the market, it was necessary to co-create products rather than merely understanding customer needs and then going for engineering and development.
The second challenge was technology implementation at the price point which buyers can afford to pay. Features such as bi-fuel in Intra CNG with one-tonne payload with dual petrol tanks (five-litre and 35-litre), and the metallic 3-piece bumper in Yodha (against the conventional plastic) are some key innovations, continued Pathak.
The 3-piece bumper can be replaced at affordable costs, while the independent suspension in the Yodha Ex series is sought after for specific needs and will hence grow, he added.
Pickups are designed to service diverse segments such as agriculture, poultry and dairy sectors as well as expanding the delivery needs of FMCG, e-commerce and logistics sectors. Most customers here return empty after offloading the goods. To optimise mileage, Tata Motors has mapped the engines with 'Eco' and 'Power' modes. According to Pathak, cylinder activation technology (to achieve even greater savings) is not ruled out but "has to evolve".
Also Read:
Tata Motors Works On Hydrogen-based Internal Combustion Engine
Tata Motors To Supply 921 E-Buses To Bengaluru Metropolitan Transport Corpn