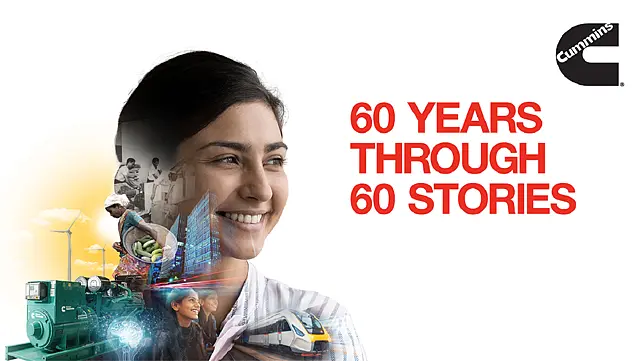 Cummins India, a leading power solutions technology provider, announced the successful culmination of its integrated digital campaign '60 years of Powering India', an ode to its six decades of successfully powering the country's growth story.
The four-month-long campaign featured 60 legacy stories capturing key company milestones, its contribution to India's growth journey, and stakeholder stories and testimonials. The campaign aimed to demonstrate the positive impact that the company has created on its stakeholders, communities, and the planet.
As a part of the campaign, the company also launched - Cummins PowerPods – their first and exclusive podcast channel in collaboration with Timbre Media, to present the stories of organisational significance to internal and external stakeholders in a refreshing and personalised way.
Commenting on the campaign, Abhilasha Shukla, Communications Leader, Cummins India, said, "We collaborated with our leadership team to conceptualise the idea of the '60 Years of Powering India' campaign to highlight the integral role Cummins has played in driving the India growth story over the past six decades. Zensciences and Timbre Media proved to be invaluable agency partners in bringing the legacy stories to life and delivering an impactful and memorable campaign."
Rahul Koul, Co-founder and Partner, Zensciences, added, "Working with Cummins India on this campaign has been an absolute delight for Zensciences. We wanted to create a campaign that was inspiring, visually stunning, and emotionally impactful. We mixed different creative formats to tell the stories and showcase the impact that Cummins has made in India over the past six decades. The response to the campaign has been overwhelming and we are grateful for the opportunity to have partnered with Cummins on this journey."
Also Read
Cummins To Invest $1 Bn Across US Engine Manufacturing Network