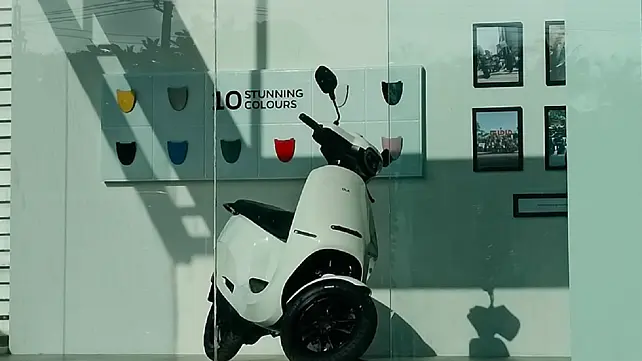 Glimpse of a recently opened Ola Electric Showroom (Source - Twitter)
Ola Electric has opened 20 experience centres across India. The start-up is planning to open 200 more such outlets by March 2023, tweeted Bhavish Aggarwal, CEO of Ola Electric.
Helping people experience Ola Electric Scooters S1 and S1 Pro is the focus of the OEM via these experience centres. These experience zones are being referred to as a one-stop destination for all things related to Ola Scooter, including options, delivery, and more.
The OEM will also use these experience zones to retail yet-to-be-launched accessories for its existing range of electric scooters. An email sent to consumers by Ola Electric noted that these showrooms will help the company address the safety concerns of people around electric scooters.
Entry Into Nepal
Aggarwal, via another tweet, mentioned that his start-up has also launched Ola electric scooters in Nepal. Notably, this is Ola Electric's first international venture. Customers will be able to buy these electric scooters by the end of 2022.
Countries falling in the LATAM, ASEAN & European Union regions are where Ola Electric is looking to launch its products for further international expansion. Aggarwal is hopeful that India will lead the World EV transition.
Meanwhile, the sales of Ola Electric S1 Pro, the company's existing electric scooter, have been decreasing month-on-month (MoM). Numbers sourced from the Vahan portal point out that the start-up had sold the maximum number of Ola S1 Pro scooters in April this year (12,703).
The following months have been a ride down south for the company. While May 2022 registered sales of 9,255 units, June and July accounted for 5,883 and 3,853 units, respectively. August registered sales of around 3,400 units of the S1 Pro.
Also Read
Will Scooter Sales Outnumber Motorcycle Sales In India?