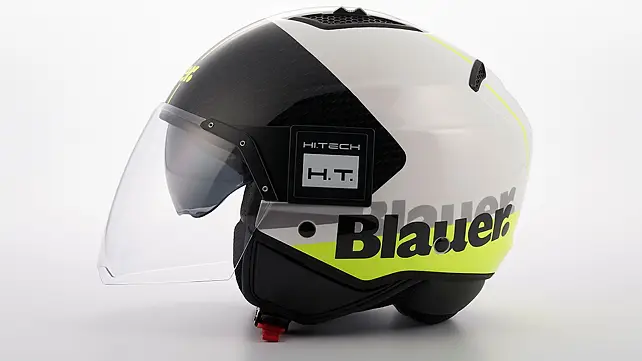 With the European Safety Standards, ECE 22.06 likely to be mandated in India and the world with effect from January 2024, leading Indian helmet manufacturer, Steelbird Hi-Tech India (SBHT) has showcased a new range of helmets that are claimed to comply with these stringent standards.
Dubbed 'Blauer BET', Steelbird will be revealing the prices of the new range when the same is commercially launched in the country. A spokesperson, however, hinted that the tentative price of these helmets will start at around INR 10,000.
Steelbird's new helmet range has passed the HIC (Head Injury Criterion) test to receive the ECE 22.06 certification, said the company, which carried out the tests and submitted the reports to an external certifying laboratory.
"ECE 22.05 envisages impact against a flat anvil and 'kerbstone' in the shape of the pavement, from a height of 7.5 m for a speed of 7.5 m/s (28km/h), which becomes 5.5 m. With the new ECE 22.06 norms, the impact will be at 5.5 and 8.5 m," read an official statement issued by the company.
While it will be legal for riders to wear ECE 22.05 helmets even after January 2024, the manufacturer, distributor or retailer of a helmet will have to make sure to only supply helmets with ECE 22.06 certification. The transition from ECE 22.05 to ECE 22.06 was announced in June 2020. The launch of the Blauer BET series would make Steelbird one of the first brands to launch helmets that comply with the new safety standards, way before they get implemented in India, a Steelbird spokesperson said.