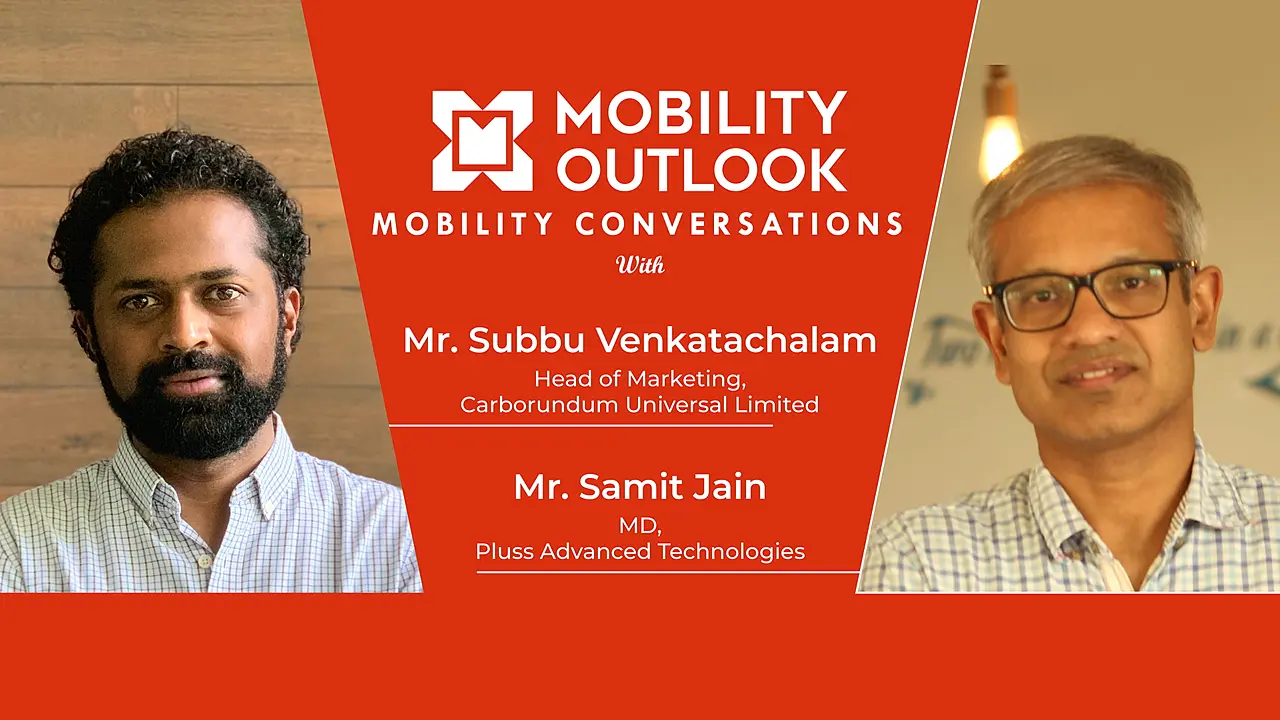 Subbu Venkatachalam is the global head of marketing at Carborundum Universal Limited (CUMI), a leading materials sciences engineering solutions provider and part of the 120-year-old Murugappa Group.
As the MD at Pluss Advanced Technologies, Samit Jain heads the overall strategy, marketing and finance portfolios.
Can you tell us about CUMI and its plans for Pluss Technologies?
Subbu: CUMI is a material sciences company, and one of our newer solutions is PCMs (Phase Change Materials). These advanced materials have come into play over the last two decades, and very few people have understood what these materials can do and how to channel them in the market.
We started working with Pluss technology a few years ago, and now they're working in partnership with us, building solutions with PCMs, which can be applied to a million applications if one wants to. PCMs save energy with a high level of sustainability, and we are working hard to build this portfolio within the material science space. It is important to us because we have understood that CUMI can no longer be a company that relies on our traditional businesses, abrasive ceramics, etc. We must look at what's out there regarding advanced materials and how we can build solutions.
If you look at the Aerospace and Defence sector, this is something that we have gotten involved in a greater level in the last two years. Our ceramic material, for example, which is made of alumina and silicon carbide, is used for body armour and vehicle armour in the defence sector. These require materials which have very heavy wear resistance, so these jackets are lined with ceramic material. All the materials needed for this are now made within India, so all of the alumina and silica grains come from our Kerala plant; we process them in Hosur and put the jacket together through our integrators, etc. The entire value chain is also within India, so we are building solutions for India which are affordable as well. We have advanced ceramics that also go into the aerospace industry, which is one example, but we have similar solutions in railways, iron and steel, and coal mining.
Samit: CUMI also has vast experience in materials, and over the last 1.5 years since Pluss Technologies was acquired, we have already worked with our labs in Hosur, Tiruvottriyur, Ranipet and Kochi and created newer materials. We have mixed Graphene with our materials to increase conductivity and Graphite with our material to create a solution for the Lithium Ion batteries. I think the R&D infrastructure and the scalability in terms of production, the knowledge that CUMI has, has helped Pluss Technologies improve our processes from the technological side.
To what extent does CUMI's business come from the automotive sector, and what are their applications?
Subbu: In automotive, we have Electric Vehicles (EV) and non-EV. In the non-EV sector, abrasives are our largest business, and the cutting and grinding wheels used in the auto aftermarket are very large. Tinkering or polishing metal and cutting steel is done with our basic material. Today, we supply most manufacturers in India; everyone, from Kia to Royal Enfield, buys many of our abrasive materials. We are also strong in the auto aftermarket sector, supplying abrasives to garages and workshops.
We have more advanced products such as ceramics, which are a big part of our business. We make a lot of advanced ceramics for companies like Bosch for their spark plugs. Ceramics are also vital for the EV sector as they need a lightweight, heat-resistant material. A lot of the internal wiring in an EV can be lined with our ceramic fibres, aligned with ceramic wafers, etc.
In defence, specifically in the automotive sector, we are working with all the large brands such as Tata, Mahindra Defence, Bharat Forge, etc. We supply a lot of vehicle armour related to protecting car doors, lining the front of the car with ceramic material and underbody blast protection. We also offer blast-proof protection products for EVs, which can absorb heat and are lightweight and wear-resistant. This product has been doing well for us, and there is a huge demand from the defence sector. We already have a wide product portfolio, so these are important markets for us.
We are now bringing in another product for EVs, for which we are working with Morgan Thermal Ceramics. This is a solution for EV battery fires with a thermal ceramic material that protects the entire battery. So, even if something happens, it doesn't catch fire. We have just started working with a few companies, including two-wheeler companies.
What is the contribution of Pluss Technologies in the automotive sector?
Samit: At Pluss Technologies, we work on PCMs to absorb or store heat. So, on the automotive side, we are working with every 2W and some battery manufacturers with PCMs which can store the excess heat created when the battery is heating up or when ambient temperatures rise. This material is being incorporated into battery packs, and we received our first orders five months ago from one of the two-wheeler companies. We are working with several others, and they are trying to upgrade the phase and change the material in the lithium-ion battery pack. When the vehicle is parked, the material again regenerates itself because the temperatures drop below 50 degrees Celsius. So, this is one of the applications of PCMs in the automotive sector.
We also work at an R&D level with large automotive companies such as Tata, Mahindra, etc. One of the future uses of PCMs is incorporating a cooling material in the HVAC system. Vehicles are kept running at red lights as no one wants to switch off the engine as the AC will stop working. Our solution proposes the incorporation of cooling PCMs again, which at 15-20 degrees Celsius will throw the cold air into the cabin using the HVAC system but without the need for the engine to run. The other possibility is using PCMs to coat car seat covers or the car roof, which can absorb the excess heat when cars are parked under hot sun.
Another application that we are eyeing is to assist with cold start requirements at high altitudes. When vehicles are switched off in these regions, starting the car after being parked overnight is difficult due to the cold. We are working to see if PCMs can be created to absorb the heat when the engine is warm and release it when it becomes cold.
What are the energy requirements for Phase Change Materials?
Samit: Since energy can neither be created nor destroyed, we require an energy input for phase change materials. It can either be free cooling or free heating. The word technically and even in marketing is 'freely available energy'. So here are the external heat or cold that is available to me free of cost.
In the lithium-ion battery case, the protective material will melt because of the heat that is generated during the charging of the battery or running operation of the battery and will freeze when the vehicle is parked and the temperature slowly comes down to, say, below 40 degrees Celsius. We are working with the automotive industry on another cost-saving example related to cold-chain trucks.
Here, we typically have trucks fitted with an AC unit that runs on diesel fuel and keeps the cargo container cold. Diesel costs approximately INR 90-100 a litre, whereas electricity is much cheaper, at about INR 6-8 a unit. We could run the AC using electricity at night just like one charges an EV. So now we generate cold temperatures, which are stored in PCMs. This energy can be stored and released when the cold-chain truck operates without using diesel for the AC. It could maintain the required temperature for 16 hours of operation with eight hours of charging. It could maintain ice creams at - 20 degrees centigrade or milk at + 2-8 degrees centigrade without diesel. So there will be significant savings.
What are the prospects for Pluss Technologies?
Samit: Our market outreach has increased as CUMI supplies to every automotive supplier today. In the Indian EV sector, we are already seeing great adoption by the industry. Out of about 20 2W manufacturers in India, I would expect at least 5-6 of them to use PCM solutions and start rolling out two-wheelers with PCM based battery packs. We're also talking to many companies under the PLI scheme. Many companies have started setting up assembly and manufacturing units for lithium-ion batteries. In the next two years, we expect these companies to start supplying batteries on a much larger scale. Therefore, some of them may start using PCMs.
Also Read